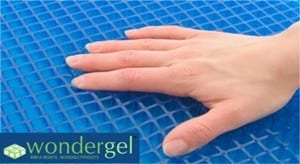 There are all kinds of products out there that are designed to help us feel better and be comfortable. Memory foam is one of them but you may be far more interested in what WonderGel has to offer.
Overview
WondGel is a company that has the exclusive rights to produce seat cushions comprised from the technology of Column Buckling Gel. This is a pressure threshold technology. It allows for the redistribution of pressure and equalization. Sounds pretty technical doesn't it. What it means to you is the WonderGel form is a whole lot of comfort. Cushions made from this technology can assist with your alignment and help to avoid hot spots when you are sitting. You know when you get that painful discomfort from sitting? Well this can be as a result of aggravation to the hot spots being created from the pressure when you are sitting.
The Claim
The Company claims that based on this technology their cushions are like none other. In most cases pillows you are sitting or resting on will give way to your weight. They say that WonderGel cushions push back. So you have got some reliable resistance there that adds to your support.
The Hype
The best way to really understand the effectiveness of WonderGel is to think of patients who are in bed for long periods of time, and they develop pressure sores. The Column buckling gel technology has been successfully use to dramatically help combat this. Almost anyone ends up being uncomfortable after a period of time sitting, no matter how much body fat they have to rely on for padding. This product aptly addresses that.
The Cost
The prices vary according to which WonderGel product you are going to buy. The company offers different selections of cushions and pillows and other products as well. To give you an example, a WonderGel Roll N Go cushion will cost you $34.99
The Commitment
Chances are you may have to consider committing to buying more than one WonderGel product. As soon as other family members try it out or your co-workers at the office, they are going to want one. You also have to remember to use it on a constant basis. This probably won't be too much of a challenge though, because you are going to be so impressed with the comfort that it affords, you will know when you are not using it.
Evaluation
We have looked at other specialty products before that are designed to give you comfort. We have reviewed a lot of different pillows, and we did talk about one seat cushion called the Forever Comfy. This particular one got a lot more thumbs down than up. What we find different about the WonderGel is that the company is very impressive with its explanation of its technology. Technology that is being used successfully for similar problems created by long periods of sitting.
Final WonderGel Review
We are going to give the WonderGel a Thumbs Up rating.Overall it has been getting a four star rating. Anyone that has to sit for any length of time most always feels some discomfort. If it is in the work setting this can become a distraction. If you are sitting trying to relax and relieve some stress and you are uncomfortable you are not relaxing at all. Discomfort also causes you to take on a poor posture while you are trying to find a comfortable position to relieve those pressure spots. The WonderGel really seems to be the ideal solution.
Our Recommendation
We highly recommend that before you go out and spend a fortune on a new lazyboy chair, or super padded office chair that you try the WonderGel cushions first. You might end up saving yourself a whole lot of money and running the risk that your expensive purchase of new furniture isn't providing the results that you are looking for.
Official Website: Wondergel
What do you think? Does WonderGel work or not?