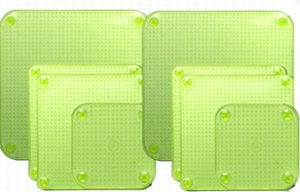 There are lots of different ways to use to keep your food fresh, and the most common is food containers or with wraps. Stretch and Fresh is another alternative, so let's find out why or if it should be your first choice.
Overview
This product is comprised of silicone wraps that can be used to seal the containers that you want to store your food in. It is a replace for those plastic wraps that we are so familiar with.
The Claim
The company claims that Stretch and Fresh is able to lock in freshness, keep out spoilage, and is quick and easy to use. This is what they are say right? So what makes the product different? They claim that it stretches to three times its size. Is reusable, and is dish washer safe. Plus they claim its safe to be used in the microwave and it will grip any container.
The Hype
Whenever we are wrapping food for storage we have some set expectations. It has to be easy to use, and not only keep the food fresh but be leak proof. Being reusable means saving money, so that is a big plus. All of these benefits are what you can consider as the hype for Stretch and Fresh.
The Cost
You get a four pack of the Stretch and Fresh covers for $14.95 plus $5.95 for shipping and handling. If you want to add another $5.95 to your order then you will get a second 4 pack free.
The Commitment
Remembering to use them will be your biggest commitment. All too often we buy nifty little kitchen gadgets like this, and shove them in a drawer then forget about them.
Evaluation
We like the concept of the Stretch and Fresh because we know that this type of product is in big demand. In fact we have reviewed others very much like it before and got good responses to the reviews. We talked about the Stretch Tight Wrap N Snap, and so far there have been more thumbs up than down for that one. This particular product happens to be a dispenser, so you have wrap replacement costs to consider. Which is better for you depends on the amount of times you need to use a product along this lines. With the dispensers you aren't limited to just using the wrap to seal containers, so they really are two entirely different products in that respect yet have the same goals.
Final Stretch and Fresh Review
We are going to give the Stretch and Fresh a Thumbs Up. It is made for convenience, and has all the makings for being durable and long lasting if cared for properly. The only thing is maybe four of these sealers is not going to be enough, so you may want to take advantage of the extra offer of buying a second one for the shipping and handling price.
Our Recommendation
You are going to have to make sure that you look after your Stretch and Fresh according to their directions. Follow the guidelines of how to use them properly. A lot of food gets thrown away simply because it hasn't been stored properly in their containers. Also, a lot of money is spent on containers with lids, and either the lids only fit for a short period of time, or they get lost. The Stretch and Fresh just might be the perfect solution.
What do you think? Does Stretch and Fresh work or not?