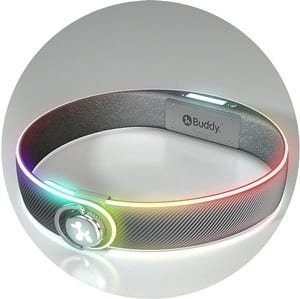 We really do love our pets and we know there are plenty of other pet lovers out there. So when we find something that is on the market, or is about to be released that we think is going to be important then we like to share it with you. For this reason we wanted to bring the Buddy Collar to you.
Overview
The Buddy Dog Collar is a revolutionary new high tech twist on the dog collar. It has amazing features that allow you to do so much more than just attach a leash and walk your dog.
The Claim
The claim is that the Buddy Dog Collar is the most technologically advanced dog collar ever invented and will revolutionize the way we interact with our dogs on a daily basis.
The Hype
The hype surrounding the Buddy Dog Collar comes from the incredible array of exceptionally innovative features that make the product both unique and amazing. This product truly brings the world of dog ownership into the 21st century by coupling information technology with a variety of very cool aesthetic features
The Cost
The cost of the Buddy Dog Collar is going to be approximately $250. The price may change or fluctuate depending on exactly where you buy it after the product roll out. Pre-orders are being accepted on sites like Indiegogo.
The Commitment
The commitment required for the Buddy Dog Collar is pretty negligible. After you have charged the unit fully you simply put it on Rover or Fido or whatever your dog's name is and you are good to go. You will periodically need to remove the unit to charge it in the included docking station, other than that it requires nothing further.
Evaluation
The Buddy Dog Collar is quite simply the most incredible pet accessory we have seen in many years if not ever. It is going to revolutionize the way we "communicate" with our dogs. The collar not only lights up with a variety of very cool pre-set lighting options but also contains a huge amount of technology that allows you to "see" where your dog is at all times via GPS, allows you to set a perimeter "fence" via the same technology so if you dog leaves a certain pre-set area you are notified. It tracks your dog's activity and calculates calories burned, it tracks food input, it senses whether the animal is too hot or too cold and can send all of this information right to your smart phone. You can even set it up to interface with other smart products in your home like your Smart thermostat so that in the event that the house or condo/apt gets too hot during the day for the animal you will receive an alert and be able to change the temp remotely in order to make the animal more comfortable. The light alone makes this a worthwhile investment considering the many thousands of dogs that are killed each year by automobiles due to low visibility. This product is simply amazing and does everything you can possibly think of to help you be a better dog owner. The information is there, what you decide to do with it is up to you.
Final Buddy Dog Collar Review
We think the Buddy Dog Collar is the best new pet related product we have seen in…forever. The features that it contains are incredible and will make owing a dog even more fun and exciting. This truly is the way of the future in dog collars. Great investment for anyone who owns and loves a dog. Based on the technology it is offering we are going to give it a thumbs up rating.
Our Recommendation
We would recommend this to anyone who has a dog and cares about their well-being and health. This is not to suggest that if you do not have one you don't love your dog. Far from it. But, if you can afford this type of product then the benefits of having one far outweighs any argument against them. They can help to make your dog safer and healthier. What more could you ask for in a product? If you are not prepared to make this type of investment there are some other good dog collars out there that have some exceptional qualities to them.
What do you think? Does Buddy Dog Collar work or not?