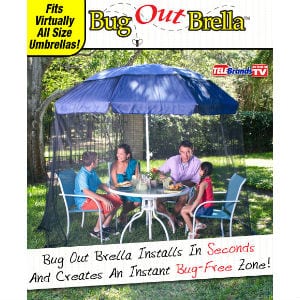 Bug Out Brella is a screen that hangs down around an umbrella in order to keep out mosquitoes, flies, and other annoying flying bugs. You use the umbrella you already have, and they say it works with almost any umbrella, but what are actual users saying about its effectiveness?
Overview
Being outdoors during the warm months is really nice, until you get bit by a mosquito, or stung by a bee, or pestered by the same fly again and again. It can really put a damper on things which is why so many products exist to try to keep those pests at bay. This is one product that assumes no matter what you do the bugs will come, so you might as well come to terms with them and just make a safe zone for yourself.
The Claim
The makers of Bug Out Brella say that their netting system works for all types of umbrellas and installs in a very short time. They say that with its large zipper in the front you'll have no trouble getting into and out of it, and that the bottom is made so that it stays in place even if it's windy.
The Hype
There's an infomercial for this netting system that shows off how you'd use it, and of course exaggerates the problems experienced when trying to enjoy the outdoors. Basically, if you've spent anytime trying to have a meal outside you know that you need something to keep the bugs from spoiling your meal, so not a ton of hype is needed.
The Cost
You end up getting two Bug Out Brellas for $37. Right now they're running a promotion that gets you a $15 coupon towards another product that you might have seen on TV and wanted to try. Looking at the competition, most of them clock in at the $30 range or so and some of the biggest complaints are that they don't quite fit the umbrella, or the bottom doesn't stay in place well enough and they're always having to fix it.
The Commitment
Since they say it installs in seconds there really isn't much of a commitment on your part. It's one of those products that you can try to forget about once it's in place. If you end up getting more patio or outdoor furniture in the future you should still be able to use this for it, since it is supposed to fit most umbrellas.
Evaluation
The concept behind Bug Out Brella is a solid one, since most umbrellas made for outdoor use do not account for all of the bugs and flying critters that come out during the summertime. You can buy outdoor umbrellas that come with their own netting already in place, but what if you already have an outdoor furniture set with an umbrella. And worse yet, what if you paid a good amount for it, but find you don't use it as much as you thought you would because of the bugs?
Using a post-purchase product like this one requires that it be able to fit correctly in order to work. If there isn't a nice tight fit at the top of the umbrella bugs are still going to find their way to you, especially persistent mosquitos that will stop at nothing for a meal. They seem to have come up with a good way to make sure that it fits correctly both at the top, and at the bottom.
Final Bug Out Brella Review
Bug Out Brella is getting our Solid Try rating, based on the positive feedback it's been getting from users, and the design and follow through looks like a winner. Trying to come up with a solution using other methods like citronella candles or bug zappers isn't as effective. We searched for a comparable alternative and the other options out there function in a similar way, cost about the same, and get moderate feedback.
Note: Because of the way the pricing is set up, if you decide to return it you'd only be getting $20 out of your $37 back, so you are taking on a lot of the risk involved with the purchase, at least from a financial standpoint. It would be nice if they would just send you one at a reasonable price with a shipping charge that is reflective of the actual costs of shipping.
Our Recommendation
This is worth trying mainly because there isn't anything else quite like it, that was made for this exact purpose. It's a simple idea that has some added benefits like a zippered front for getting into and out of it. It would be great for outdoor reading when you don't want to be bothered by bugs, and other times when you're going to stay in place for awhile, but perhaps if you'll be entertaining or having a family picnic it might not be too feasible.
What do you think? Does Bug Out Brella work or not?