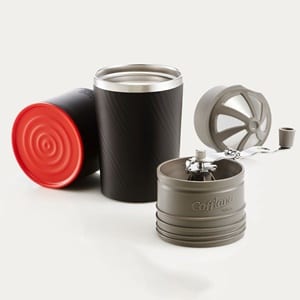 Most people like their coffee and the faster they can get it made the better they like it. While there is no shortage of coffee makers on the market most are not as innovative as the Cafflano is.
Overview
The Cafflano is an all in one portable coffee maker designed to allow you to grind, perk and drink a fresh cup of coffee no matter where you are.
The Claim
The claim is that the Cafflano is the world's very first portable coffee maker that not only lets you make a coffee but does so with real, fresh beans that you grind, and then perk right in the unit!
The Hype
The hype surrounding the Cafflano stems from the fact that it is the first of its kind, anywhere. Nowhere else can you actually grind and perk a fresh cup of coffee on the go!
The Cost
The cost of a  Cafflano unit is only $102.58.
The Commitment
Pretty much no commitment required for the Cafflano other than the desire to have fresh ground and perked coffee no matter where you are.
Evaluation
As a lover of fresh ground coffee we absolutely love the idea of the Cafflano. The self-contained unit allows the user to simply add your fresh beans to the top of the unit, turn the crank to fully grind the beans to your desired level of coarseness then remove the grinder and there are your fresh ground beans in the filter. Use the built in water pourer to add your hot water and then gravity will do the rest! The fresh ground and brewed coffee is filtered into the built in mug that you simply need to add your milk and sugar if you prefer and then enjoy! The beauty of this unit is that you do not need to have access to anything other than hot water, it simply does everything else that a full size coffee maker does but in a one and done unit!
Final Cafflano Review
Very well made, and exceptionally unique in its design and function. This one will be sure to catch on with people from all walks of life who love a good, fresh cup of Joe! From the outdoorsman or woman who needs to travel light to the hip festival goer who wants a cup while checking out the latest indie band this unit will fit the need of them all. We are going to give this product a thumbs up rating.
Our Recommendation
If you are simply at home or work and not wanting to use the full size brewer to make a single cup the Cafflano is the go to choice this season. A great product well made and exceptional in design and function this one is certain to be a hit! If you want to check out another type of coffee maker then take a look at the Scoop.
What do you think? Does the Cafflano work or not?
[kkstarratings_custom_footer]