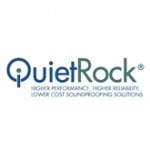 Considering QuietRock for your home? Soundproofing is necessary for certain establishments like theatres and studios, but sometimes soundproof walls are needed at home too. Basically, you can use two methods of soundproofing. You can either install multi-layered drywall fixtures or make use of modern sound dampening products.
QuietRock is just one of the many brands that make use of emerging sound-dampening technology. And so far, it is also one of the most popular too.
Overview
QuietRock sheets can be installed just like regular drywall products. However, when you tap on these sheets, you will notice that there is no resonance and reverberation. The company behind the QuietRock product is called Serious Materials, and it has a good reputation among home builders and construction workers.
The Claim
QuietRock claims to be the "lowest cost noise reduction wall panel on the market." By just using a single sheet of it you are guaranteed a soundproof wall. And these wall panels are easy to install too, as they can be cut just like standard drywall panels with a utility knife. These walls offer sound absorption and dampening to soundproof a particular area or room.
The Hype
With its high STC ratings, QuietRock wall panels have become in demand for the construction of studios, theatres, and soundproof rooms. According to the maker of these materials, you can save money by installing just one layer of wall panel instead of several sheets to make a particular room soundproof and noise-free.
The Cost
There are different types and models of QuietRock wall panels. The standard type of sheet costs around $50 or so. On the other hand, a single sheet of ordinary drywall panel costs around $30. As you can see, QuietRock costs almost twice as much as ordinary wall panels. However, you may need to install 8 layers of these ordinary panels to make a particular room soundproof. If you've got two bedrooms that share a wall, it might be worth the cost to have peace and quiet and not hear every little sound that comes from the room.
The Commitment
QuietRock wall panels can either be installed directly or indirectly on studs. However, to make the soundproofing quality work, there should be some kind of framing installed behind the wall. Note that if you install QuietRock on any surface that doesn't have framing or studs, the soundproofing quality will not work. It is therefore advised that you hire a knowledgeable contractor to do the job, as this type of wall panel has special prerequisites in order to work.
Evaluation
The QuietRock product is really good. However, it can be quite expensive if you compare it with ordinary wall panels. But as long as you follow the right procedures on its installation, you can be sure that the system can be very effective. There are also different models of QuietRock to choose from, so you can actually go for the type that your budget allows.
If you get the model #525, it can take the place of 8 layers of standard drywall panels. Besides, there are a lot of disadvantages to installing multi-layered walls. Aside from the added expense (material and labor costs), you will also be putting too much weight on the walls. And you will also lose some of the available space in a particular room.
Does QuietRock Really Work?
Yes, QuietRock wall panels work amazingly if you follow the proper steps during installation. It works effectively for soundproofing and it also works in saving you money. You see, these panels may seem to be expensive when compared to ordinary wall panels. However, if you need to install multiple layers of standard wall panels in order to make a room soundproof, you will need to spend on glue, sealers, and even labor. And that will add up to a lot of money and a lot of time as well.
Plus, normal drywall doesn't have much in the way of soundproofing. If you have a smaller home with everyone living right next to each other, you can have a feeling of privacy by having soundproofed walls. It's a way to have a seemingly bigger house without the extra size.
Our Recommendation
We highly recommend QuietRock wall panels for your home, studios, or any room that you want soundproofed. It's very effective and it works just like it was advertised to work. Its claim of having the lowest cost in noise reduction system is based on modern technology and the walls can really absorb and dampen sounds. So even if the prices of these wall panels are 2 or 3 times higher than standard wall panels, it's still worth the money as it is 8 times more effective.
What Do You Think? Does QuietRock Really Work?