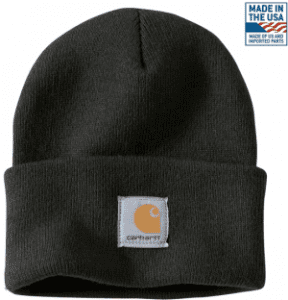 During the cold weather months it means buying winter accessories to keep you warm, and choosing the right ones like the Carhartt Acrylic Watch Hat may be a good choice.
Overview
The Carhartt Acrylic Watch Hat is a quality made winter toque or beanie hat. It is designed for men but there are plenty of women who wear it too. It is made of 100% acrylic rib knit fabric that allows it to stretch while at the same time keeping its form.
The Claim
The promoters of the Carhartt Acrylic Watch Hat claim that this is one of the best types of headwear out there for keeping you warm. Many that have invested in it claim they wouldn't buy any other type of hat. It fits snug but is really comfortable and non restrictive.
The Hype
The hype for the Carhartt Acrylic Watch Hat really focuses around the fact that that is comprised of everything needed to provide a good wearing experience. There are no sacrifices that have to be made like giving up comfort for warmth, or giving up warmth for style.
The Cost
One would think that the Carhartt Acrylic Watch Hat would come with a hefty price tag because of its popularity. However, depending on where you buy it the cost is very reasonable at around $9.95.
The Commitment
If you know that its cold outside then you won't need to be reminded of your commitment to wear your Carhartt Acrylic Watch Hat. However, its always a good idea to keep it tucked into the pocket of your winter jacket so that it is always available to you. The other commitment is to take care of it and launder it properly. By doing so you are making an investment into a winter hat that is going to last you a very long time.
Evaluation
When looking at the merit of the Carhartt Acrylic Watch Hat the material is important. The Carhartt Acrylic Watch Hat material is durable and keeps its shape while allowing you to feel comfortable when wearing it. A lot of people say they really like this hat because it doesn't make their scalp feel itchy. Nor does it cause them to sweat. They also really like the style.
Final Carhartt Acrylic Watch Hat Review
It is easy to pick up this type of hat from the dollar store or from a bargain store but you are really not getting true value for your money. It is not just a matter of covering your head and ears in the cold weather to protect them from the snow or freezing rain. You want headwear that is going to keep you warm and that is what the Carhartt Acrylic Watch Hat does. Based on all of this we are going to give it a thumbs up.
Our Recommendation
Be careful where you buy the Carhartt Acrylic Watch Hat as some people are complaining that some of these being sold on Amazon may be knock offs. The company itself claims the Carhartt Acrylic Watch Hat is made in the USA but with imported components.If finding winter clothing to keep you warm is a problem for you for example you don't like it bulky components then check out Uniqlo Heattech.
What do you think? Does the Carhartt Acrylic Watch Hat work or not?