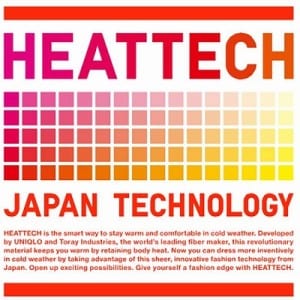 The concept behind Uniqlo Heattech is an interesting one: what if you could wear less bulky clothing, and still feel warm during the cold months. The explanation for how it works looks something like a science project, with graphs and figures, but how well does it really keep people warm?
Overview
There are those people that seem to run hot, with plenty of heat to spare they act like virtual furnaces. But for the rest of us that seem to run cool or cold, the slightest chill will make it so we're reaching for a sweater and wondering why we live in such a cold climate.
The Claim
Uniqlo, the makers of the Heattech line, claim that their clothing actually creates heat using the moisture from your body. They go on to say that the heat it creates is then stored in pockets so it not only creates heat, but stores it so that you can continue to stay warm and cozy. They say that all of their items are made out of durable material, so you don't have to go easy on them and they'll last through several washings and wearings, and keep their thermal nature. Even though they're durable they maintain their soft texture, so they feel good while being worn, and are something you'd like to wear rather than something you dread wearing.
The Hype
This is another example of a product citing Japan as the source for its technology. For whatever reason Americans have a certain affinity for Japanese goods, giving them a lot of built-in credibility and endowing them with a certain sense of know-how and effectiveness. They seem to be leveraging this as much as they can, incorporating Japanese letters in their logo and blatantly stating that the technology behind it originates from Japan.
The Cost
Much of the Uniqlo Heattech product line is in the $20 range, with some of their items going for less. The clothing costs the same for both men and women, and compared to other competing products seems more than reasonable. Typically with a product like this that is trying to incorporate science and technology into their items you'll see inflated prices, but these seem to be an economical way to stay warm and toasty without having to spend a ton on clothing.
The Commitment
All that you'd really need to commit to is wearing this instead of whatever you're currently using to create a base layer in cold weather. It's a true set and forget type of product, and once you get used to putting them on you'll probably look forward to that part of your routine, as you know that it will provide you with the warmth you're seeking on those chilly days.
Evaluation
Regardless of the facts and figures the company supplies on their product, the real litmus test is what users of the clothing think about how it feels, how it looks, and how warm it keeps you. After seeing several reviews on this from those that have gone ahead and purchased it, it's clear to see that there aren't many naysayers, and most say that the items are well-made, fit well, and do indeed keep you warm.
The only complaints that we could find was that they don't have a large enough selection of items, but they seem to be doing their best to rectify the situation by expanding their line. They currently have long johns and casual tops for men, and for women the options range from turtlenecks to camisoles, so they pretty much have you covered no matter which look you're going for.
These appear to be the base layer that you've been looking for. If you've always wanted to wear long johns or thermal underwear but didn't want to add bulk to your look or thought that they didn't keep you warm enough to bother with, this is something that's worth a try. The company says you'll be able to wear fewer layers than you normally would, and because of this you may be able to wear more fashionable clothing when everyone else is wearing thick bulky sweaters and jackets. This could be the start of a new "winter chic" look, and allow you to look stylish year round.
Final Uniqlo Heattech Review
Uniqlo Heattech is getting our Thumbs Up rating. It works! The reviews are in from several reliable sources, including third-party users and professional clothing reviewers. The items they provide are made of high quality materials, and at this price point there isn't really anything comparable. Of course there are thermal underwear out there that provide a similar thinness and excellent warmth creation, but you'll end up paying far more for them. Perhaps they are simply trying to establish themselves in the market and are undercutting the competition, but this provides a great value to the consumer, which is another reason we like it.
Our Recommendation
These are winning fans left and right, and it seems that Japan has done it again, coming up with a new way to keep the body warm without having to wear big bulky clothes. It's best to keep reasonable expectations though, and realize that while these may be able to keep you warmer, you may still need to wear thick and warm outer layers depending on how cold it gets in your neck of the woods. But as far as your options go for creating a nice base layer to start with, these deserve a trial run.
What do you think? Does Uniqlo Heattech work or not?
[kkstarratings_custom_footer]