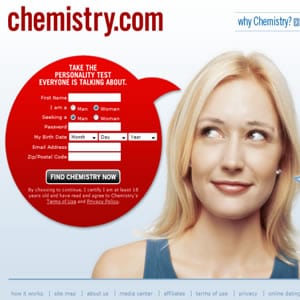 Chemistry.com is a sister site of Match.com, but focuses more on long term relationships and pairing people based on a compatiabiltiy test. They
Overview
They first used eHarmony in their advertisements, saying that their system is superior because it will match people of the same gender, and noting that there are several people that have been dejected after failing to be matched by the eHarmony questionable. To add some scientific backing to this site, they recruited the help of Dr. Helen Fisher, an anthropologist that specializes in human behavior, especially the romantic part.
The Claim
Chemistry.com claims that their three step process will help you along the path towards love. Step one involves filling out a personality test so that they can match you up with those that gave similar answers. Step two involves them introducing you to your potential matches. Step three involves you getting to know more about them before you actually decide to meet in person. By the time you meet face to face, you should already know a little something about each other, and the idea is that you'll be able to start off more smoothly than with a cold open.
The Hype
The hype is that this is one of the major dating sites out there, and they also rely on a personality profile, like Plenty of Fish and eHarmony. To think that you can take a test and this can match you up with someone that you're compatible with is a bit of hype.
The Cost
The regular pricing for Chemistry.com is $50 for one month, but you pay less per month if you order it for longer terms. You can get it down to $27 per month by paying for 6 months all at once. They also offer specials from time to time, like a 3 months for the price of one promo. We definitely recommend going with a promo, or month to month, because you want to be optimistic here. If their personality test is so accurate it shouldn't take you 6 months to find someone you connect with.
The Commitment
Online dating is all about staying committed to the process. Most people make the mistake of thinking that this is going to be like dating on autopilot. This is not the case. You still have to be the one that initiates or responds to contact, you also have to make sure that you accurately fill out your personality test so that you get really good matches, and you have to be the one that follows through, shows up on the date, and wins over the love of your life. They can only lead you down the path, you have to be the one that does the walking.
Evaluation
One thing we like about Chemistry.com is that they not only match you up with people based on your personality, but they actually help you interact with them once you've been matched up. This can be the hardest, most awkward moment, when you know that you probably have something in common with someone, but you don't know what to say first, or how to break the ice. This can be an all-too-important moment for both of you, leading to a lot of fumbling and false starts. By having them guide you through it, it should increase your chance of a successful beginning.
Other dating sites pretty much stop at showing you people that you might be compatible with. Chemistry.com gives you that nudge that is often needed, especially if you're lousy at starting serious relationships, or you tend to get overexcited, nervous, or anxious when meeting new potential mates.
Final Chemistry.com Review
We have to give the thumbs up to Chemistry.com. They're not shy about being Match.com's answer to eHarmony, but they seem to do one better than their rival. If you're trying to decide between going with eHarmony or Chemistry.com we'd have to give the edge to Chemistry. Their personality profile seemed to be more accurate, even with less questions to answer, and we like the user interface, and the way everything is set up after you complete your profile and start getting matches.
In the end, it's all what you make of it, and it's free to get started. Take it as far as you can before they make you pay, and then size up whether or not you want to spend some money to get to know the matches they've presented you.
Our Recommendation
Online dating is something that is not exclusive to one site, or sites. You should try all of them and see where they take you. When it comes to Chemistry.com you should probably be in the market for long-term relationship, rather than just casually dating, because the others that are filling out their personality profiles will be looking for a substantial relationship. Other than that we echo the motto of Helen Fisher:
"We're here. We're alive. Let's play!"
What do you think? Does Chemistry.com work or not?