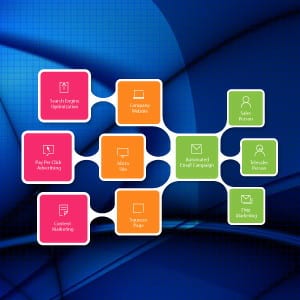 There are a lot of people that really want to get a business going on the internet but don't know how to begin and have concerns whether it will be successful. Having a complete picture or blueprint that will lead you to success reduces a lot of these concerns.
Overview
The Complete Internet Marketing Blueprint is a brand new course that is being offered through the Udemy platform. The course is comprised of several detailed videos to show you A to Z how Internet marketing works, so you can build successful Internet marketing campaigns from the ground up for years to come.
This training program includes over 20 hours of training that teaches you how to:
– Drive traffic to your Website or landing page through the key online channels, including SEO, PPC, content marketing, and more.
– Develop the right landing pages and campaigns to maximize the conversion of your Website visitors into leads and sales.
– Analyze your results through proper reporting, so you can make the necessary adjustments to scale your business for years to come.
The Claim
The authors of the Complete Internet Marketing Blueprint are Rahim Karsan and Teddy Garcia, which are both well-recognized names within the Internet marketing industry. They have been actively involved in marketing for 20+ years. Teddy has worked with many of the Internet marketing guru's, including Jay Abraham and Dan Kennedy, while Rahim has been heavily involved with corporate marketing. Their combined skills and talents along with the success of their marketing methods is what has led both of them to their individual success.
The reason they developed the Complete Internet Marketing Blueprint program is because they wanted to ensure that business owners and marketers have the necessary tools and a proven Internet marketing blueprint to be able to make the right decisions to grow their own business profitably.
The Hype
This is an exciting step forward for both business owners and marketers because they can now obtain the necessary knowledge to make well informed marketing decisions for years to come. The content that is offered comes from several years of building campaigns for some of the top internet marketers and businesses across different industries.
The Cost
Originally, the Complete Internet Marketing Blueprint course was going to be priced at $997, but they have made the entire course available for only $297 for a limited time through Udemy, which you can access by clicking here.
The Commitment
If you aren't serious about getting your business off to a good start and building your marketing campaigns the right way to get results, this course isn't for you. It is going to require your time and effort. There is no doubt that you will be able to learn and apply everything that is going to be taught to you. But, you have to have the determination to take the time to go through the program.
Evaluation
Setting up an Internet business is not all that difficult, but if you don't have the skills to market it, it will be very challenging. The Complete Internet Marketing Blueprint takes you right from the start of being new to Internet marketing right through to becoming a successful Internet marketer. There are a lot of courses that are available to you but none are as complete as this one.
Final Complete Internet Marketing Blueprint Review
Although the Complete Internet Marketing Blueprint  is a brand new course we are going to give it a Thumbs up rating because we have had a chance to review the entire course outline and what it offers is dynamite. It is a small investment to pay for the success of your business no matter whether it is a new or established online entity.
Our Recommendation
Even if you don't have the time to implement everything that you are going to learn the Complete Internet Marketing Blueprint  program you will have the knowledge of what it is going to take to make your marketing a success. If you hire others to do your marketing for you, you will have the knowledge to manage it and clearly understand if they are doing what it takes to get results. If you are contemplating starting a online business and working from home then you have to do some proper planning and follow the same format that setting up and running a business demands.
What do you think? Does the Complete Internet Marketing Blueprint work or not?