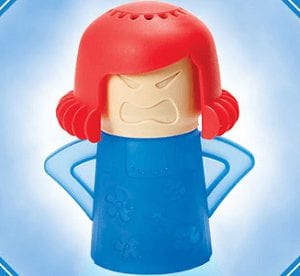 Sometimes an item that is really simple can turn out to be a great resource, and it doesn't hurt if its unique and whimsical too. So does Angry Mama fit into this category and what does it really do?
Overview
Angry Mama is just a cute whimsical little device that you use to clean your microwave with. It is just a matter of filling it up with a solution of water and vinegar then placing it in the microwave and turning it on for a few seconds, so it can loosen up all the hard dried on debris that so often occurs in the microwave. Once it has become softened it is really easy to wipe out the microwave without having to scrub it.
The Claim
The company claims that Angry Mama is the quickest and easiest way to tackle cleaning the microwave. They say the secret to its success is in the design of the pressurized head.
The Hype
Cleaning the microwave can become a daunting and time consuming task if dried on debris are allowed to build up. Getting in to clean all the corners is not easy. The hype around Angry Mama focuses on how easy it is to clean off the stuck on food once it has been subject to the power of Angry Mama.
The Cost
You are going to pay $10 for Angry Mama and $6.99 to have it shipped to you. The cost of the product itself seems reasonable but when you add on the shipping cost you really need to decide if a total cost of $16.99 is worth the investment. If you want to add an extra $6.99 to your order then you can get an extra one free.
The Commitment
It is going to take far less commitment to use Angry Mama than it is to use elbow grease on getting that microwave clean.
Evaluation
Angry Mama really comes down to being a product of convenience. You could place a bowl of water and vinegar in the microwave and probably get similar results. However, there is the risk here of handling the bowl of hot water when you need to remove it so you can clean the microwave. So you could look at Angry Mama as affording some safety features here.
Final Angry Mama Review
We are going to give the Angry Mama a Try/buy rating for those that like cute gadgets built for convenience. Of course the ideal solution is simply to wipe out the microwave before food gets a chance to get baked onto it. However, we don't always have time to do this.
Our Recommendation
While you can use the Angry Mama to tend to a problem that has arisen such as the stuck on foods in the microwave you may want to consider a preventative solution. This would be to prevent the splattering of the food that is being cooked by using the Magic Steamwave.
What do you think? Does Angry Mama work or not?