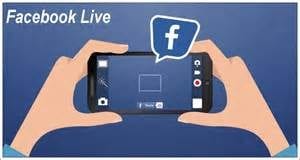 If you are into making your presence known online on either a business or personal level then no doubt you have discovered many different venues and platforms to do this. If you have not as yet familiarized yourself with Facebook Live then you are in for a whole new experience.
Overview
Now instead of just being able to post comments, and pre-made videos on Facebook, with Facebook Live you can participate in live streamings. So you are able to capture the moment and share it with whoever you please on the Facebook platform instantly. Now how cool is that!
The Claim
According to Facebook promoters all it takes is tapping the live stream icon and you are ready to start a live broadcast via your smartphone. You can even add a comment at the end. Any of your friends or followers can instantly see your live broadcast. Then once you are done it becomes part of your posting. Facebook live is really opening up some new doors for interaction.
The Hype
They hype really focuses on the in the moment action. It is great when you can catch what you want on video and allow instant access to it. Plus, it's convenient and is a time saver.
The Cost
The good news is you are not paying for this extra Facebook Live feature. You just need to be a little savvy with your video making but you certainly do not have to be a pro at it.
The Commitment
If you are a facebook enthusiast then getting started with Facebook Live is not going to be a chore. Chances are once you start making use of it then it's going to become a favorite of yours.
Evaluation
We really have to say that Facebook Live is just a way for this platform to keep up with the times. If they hadn't done something like this then with today's modern technology they run the risk of becoming mundane. While on a social level this is really novel, it won't be long before the business world begins to capitalize on its capabilities. It is ideal for drawing more attention for those that want more followers. It can be utilized with a pre-planned broadcast which is great for those that are planning to use Facebook live for their marketing campaigns.
Final Facebook Live Review
Overall it would appear that Facebook like will be a success and will tend to be a fad for awhile. For all those that are into Facebook, Instagram and Snap Chat this new venue is sure to be a hit. If you are looking to attract new followers then it will all be in the headline which is going to be your starting point. Don't forget to show your appreciation by engaging with your viewers and following the same basic marketing tactics you would if you are using Facebook for business purposes.
Our Recommendation
Before you decide if Facebook Live is for you maybe check out how your friends are using it and then decide if you want to do your own live streaming. There are lots of possibilities for this so be sure to keep yourself up to date as to the various ways it is being utilized.
What do you think? Does Facebook Live work or not?