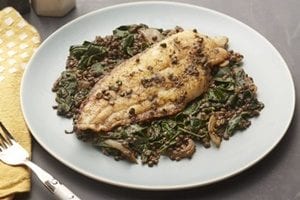 For those that have a busy lifestyle it is not always easy to prepare wholesome meals, let alone find the time to shop for all of the best ingredients. Therefore being able to rely on the type of services that Blue Apron offers may be a real game changer when it comes to providing perfect healthy meals for your family.
Overview
Blue Apron is a Company that will deliver farm fresh ingredients along with the applicable recipes needed to prepare the meals in a way that maximizes its taste and nutritional value.
The Claim
The Company claims that they take care of all the meal planning plus the shopping by relying on only the very best of top quality food suppliers. Everything arrives in pre-measured quantities so all you have to do is follow the recipe.
The Hype
Just the time saving features alone creates the hype for Blue Apron, but the fact that so much care has been put into the provision of ingredients that are used in top quality meals is also important. In no way, shape or form can the meals be thought of as fast foods. Yet they are easy to prepare because of the detailed and easy to follow instructions.
The Cost
There are two plans that you can take advantage of at Blue Apron. One is the two person plan which has 3 recipes. It works out to $9.99 per meal. Then there is the family plan offered by Blue Apron that will serve four nicely.This meal program works out to $8.74 per meal.
The Commitment
The commitment on your part is to first decide on the meals that are your favorites. Then after receiving your parcel all you need to do is follow the instructions for the recipes.
Evaluation
Overall the concept is great. If you think about how many times you order in per week from the regular fast food restaurants you can easily replace this habit with a healthier one. Also when you look at the quality and size of the meals you are getting with Blue Apron then the price per meal is excellent. You would never get this type of meal for less at a quality restaurant, and the bonus is you didn't even have to shop for it.
Final Blue Apron Review
If you are always on the go and you find meal preparation in a healthy manner to be a real struggle then we suggest you give Blue Apron a try. Even if you just use these services once a week its a big bonus. Plus, there is no feeling guilty that you are not putting your best efforts into your meal preparation. It really comes down to someone has done the shopping for you and taken the guesswork out of what to make for the meal. It is simple yet effective. Overall we are impressed with what Blue Apron has to offer and its concept so we are prepared to give it a thumbs up.
Our Recommendation
We have looked at similar services in the past like Farm Fresh so you may want to do some comparisons and check out the comments before making your final decision.
What do you think? Does Blue Apron work or not?