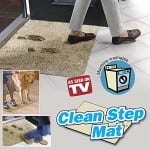 Many people have trouble keeping their doorway free of dirt and debris, and products like the Clean Step Mat promise to take these sort of troubles away. It can be a hassle getting your shoes clean when the weather outside is less than desirable. Winter months and wet days can provide a constant trouble to keep the outside dirt, slush, and mud outside.
Overview
The Clean Step Mat has attempted to solve almost all of the complaints people have about conventional doormats. People hate having to wipe their feet again and again while they're just trying to get in the door. They don't like it when a door mat slides around on them, and they don't like having stuff still stuck on their shoes after wiping and wiping.
The Claim
The Clean Step Mat has one of those TV ads that keep the claims flying in high gear. The most poignant claim is that you don't need to wipe your feet in order to use it, since it automatically attracts the dirt and mud from your shoes instantly. They say that it will work with any door because it has a low profile and therefore won't make the door jam.
They also state that you can use it on any floor because it won't slip, whether it's on hardwood or linoleum. It can also soak up any sort of moisture, so you don't have to worry whether it's rain, snow, slush, or sleet it will be able to handle all types.
The other useful feature they say it has is that it's machine washable, so when it gets all wet and dirty you just toss it in the washing machine and you don't have to worry about it.
The Cost
They're going with the classic buy one get one free just pay shipping and handling deal, so you actually get 2 for $20 plus shipping and handling at an extra $16 making it $36 for two or $18 each. You can buy them singly at your local Bed Bath and Beyond and bypass the shipping and handling charges, but you'll end up paying a few dollars more, and most houses could use two of these.
The Commitment
One thing that is important to remember is that your Clean Step Mat is not ready to go once you open it. It's highly recommended that you wash it first in order to get the best results. All you have to do is pop it in the washer, you don't even need to put any detergent into it, it's just so that the fibers can get activated, and any loose ones can come off.
After you give it a good washing in the cold cycle, pop it in the dryer until it's ready to go. Simply replace your current door mat with this one, preferably on the inside of the door so that you can get out of the cold and wet and so that the mat doesn't absorb all of the extra rain and mess from outside.
You don't need to wipe your feet vigorously as you do with conventional door mats, but a few good steps on it will remove all of the moisture and muck from your shoes and you can be on your way again.
Evaluation
This looks like one of those products that wouldn't be able to live up to its expectations, but under real world testing it held its own. It soaks up whatever is on the bottom of your shoe, but for best results you should step a few times on it, and not just step once and expect it to get everything.
Final Clean Step Mat Review
The complaints for the Clean Step Mat mostly mention its small size, but it claims that it is standard sized for door mats. It clocks in at 18×28 inches so this should be enough room to step onto a few times to let it do its job.
Since you get two of them when you order from the manufacturer, it's great because you can choose to put one right in front of the door, and another off to the side so that you can't have to sand in one place to clean your feet. you can step onto the first one when you walk through the door, then step to the side to finish the job and allow anyone behind you to get in from the elements.
There are other door mats that seem to do a better job, but are more expensive. The WaterHog door mat has stellar reviews and seems to make similar claims.
Our Recommendation
Grab a Clean Step Mat if you've ever experienced mud, dirt, and water being tracked into your house. It's even great if you do things "Japanese style" and take your shoes off while in the home. You can have them nice and clean for when you go back outside, and it will help keep the area around the door nice and tidy.
Save some money and buy the Clean Step Mat from Amazon.
What do you think? Does the Clean Step Mat work or not?