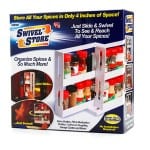 Swivel Store, the space saving organizer, is a plastic spice-storage stand that fits into a kitchen cabinet. What differentiates Swivel Store from other spice racks out there is that it takes very little space, four inches in width to be precise, while organizing small to medium sized spice bottles into one single stand. This is its main unique selling proposition.
Overview
It's basically a plastic stand in which two vertical frames face each other. The frames have a shelf each in the middle, so you can store bottles in the middle and on the bottom.
The way it works is that you pull one frame out and kind of slide, or swivel, it frontward. You can put up to ten spice bottles in one frame. That would make twenty in both the frames together. Not bad for four inches of space.
Also, if you don't want to use it in the kitchen, you can use it for art supplies, medicines, tools, etc.
The Claim
Swivel Store insists that it's the perfect solution for all your spice-organizing woes. Once you get this you'll have a perfectly organized little kitchen cabinet, with all your spices neatly put away in the most convenient sliding organizer ever. Your messy cabinet, in which you could never find anything, would suddenly be transformed and you'd never have to look for another bottle again.
The Hype
There have been quite a few ads on TV about how great this storage product is. This has led many people to order it online.
Here is their rather misleading infomercial:

The Cost
You can buy it at any retail outlet, like Walgreens or Kmart, for $19.99. Or, you could get it online where it seems to be on an eternal buy-one-get-one promotion, you buy one for $19.99, plus $7.99 for shipping and you get the second one free, as long as you pay the $7.99 handling and shipping charges. Seems like quite the deal for getting your cabinets in order.
Except, not really.
Evaluation
First, there appear to be numerous disputes over the cost. Many of those who bought it directly from Swivel Store and not, say from Amazon, seem to be repenting it since they were charged much more than what the figures above add up to. Worse, and again this was a common complaint, that when they called the number given they were spoken to rudely and told that nothing could be done about the billing. The box apparently has no receipt or return address in it.
The one word that people used a lot while describing this product was "rip-off". Apparently, when you order it directly from Swivel Store, the site does not let you review your charges before you submit the order. This leads to untold chaos and it certainly does not help to call them. A lot of people have got billed large amounts they had not agreed to.
The whole cost thing aside, the product itself does not seem to be worthwhile. The plastic, for one, is tacky and the stand easily tips over. More frustratingly, it only fits certain sizes of bottles, which a lot of people don't have, or at least that's not all they have. The bigger ones don't fit and the smaller ones fall out.
When it comes to the whole "it-only-needs-four-inches-of-space" claim, that's really not so true either. It may fit in the cabinet, but it needs more space (on the sides) when it opens and swivels out. It is also taller than expected and does not fit in many cabinets height-wise. So, it really can't just go into any odd cabinet and organize it magically much to your delight.
Final Swivel Store Review
Swivel Store, wonderful as it seems on TV, is not really that great a product. In theory, it's a good concept, but it does not translate well in reality at all. It seems like one of those products that was launched in a great hurry with no quality control or real thought given towards how it would work.
The material is flimsy, it comes with no instructions and it ends up costing more than double of what it says.
Our Recommendation
We would definitely not recommend this product. It works, but only if all your bottles are of a certain size, if your cabinet is of a certain height, if you have enough space on the sides of your cabinet, if you handle it very gently, and if you remember to put the heavier bottles on the top so it does not tip over.
In short, it does not work.
What do you think? Does Swivel Store work or not?