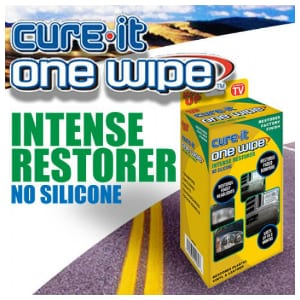 Cure It One Wipe says that it instantly works to restore your car's looks back to their factory finish. Sounds great, if it can really work, but we uncovered a few interesting details that are worth looking into.
Overview
Your car probably doesn't look the way it did when you first bought it, and that's to be expected. Cars take a beating since they're always exposed to the elements. They get wet, super hot in the sun, and if you're in a wintry climate they have to deal with snow and ice. This ends up leaving parts of your car looking faded and warn. There's usually not a good way to get them back to their original state, cleaning them just removes the dirt but leaves the appearance the same.
The Claim
The main claims for Cure It One Wipe are that it can work on faded bumpers, weathered trim, a faded dashboard, and even headlights that have gotten foggy. They say that their formula uses nanotechnology to bond to the surfaces, thereby creating a brand new surface which is why the appearance improves so much. They also say that it is infused with UV inhibitors so it will act as a sunscreen, preventing future fading and keeping your car looking sharp inside and out.
They say that because it is silicone free you can use this on all of the parts of your car, including leather, vinyl, and plastic. You can do a thorough sweep of your car and hit all of the spots that are showing signs of aging.
The Hype and Appeal
This has its own infomercial showing all of the different uses for it, hoping that one of them will resonate with consumers and lead to a purchase. The main draw to this product would be those that have been unhappy with the appearance of their car and want a quick and relatively cheap fix to make it look better.
The Cost
Your total price comes to $31 and includes shipping as well as enough One Wipe to finish two cars and a bottle of paint restorer. That's how they get the advertised price of $15 to more than double, you pay shipping on both the One Wipe and the paint restorer. They have a 30 day guarantee, but if you return it you'll only get the $15 credit back, and the $16 will stay with the company. Not a very customer-friendly guarantee, and you're shouldering all of the risk of this not working.
The Commitment
They say that this is a one-step program, and that it simply wipes on. You don't have to scrub it in or use any elbow grease. There aren't any complicated steps involved, so your commitment level is drastically reduced. Of course you have to be more involved in the process than if you had it professionally detailed, but that's the trade off for saving some serious money and doing it yourself.
Evaluation
Anytime a company claims that they're using nanotechnology in their product, you have to wonder if they're really dealing with things on a microscopic level. Nanotech is being used more and more in commercial applications, but has it found its way into a finish restorer at this price point? We don't like the way they have this set up so that there is absolutely no risk to the company in the case of a return. It's a very suspicious way to sell a product, and shows zero faith that it works.
You might be tempted to go ahead and get it anyway, because there aren't a lot of viable alternatives that are making the same claims. Sure, there are products that claim to restore your car's details, but not as quickly, not in one step, and not just one product for all parts of your car. If this can do what it says, it would be a bargain, and would be all that you need to keep your car looking tip top.
Final Cure It One Wipe Review
There isn't a lot of reason to believe that Cure It One Wipe does what it says, even the manufacturer doesn't believe in it. If they did they would set up the price and the guarantee so that it's in their best interest to have it work. As it stands they lose absolutely nothing in the case of a return, and likely still make a healthy profit.
Our Recommendation
You should wait and see if this product makes it onto store shelves, or go through a different sales channel than going through their official page. That way you can pay for the product itself, and not get wrapped up in paying so much for "shipping". $16 to ship a few bottles is excessive, and is an obvious way to shift the balance of the money being paid away from the product price in the event that you want to return it for a refund.
What do you think? Does Cure It One Wipe work or not?