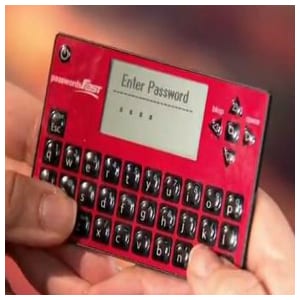 Passwords Fast, as the name implies, promises to let you access your passwords for several different online sites quickly and easily. It's a handheld device that securely stores your passwords and other sensitive data. So is this something you should grab?
Overview
More and more sites require you to register with them before they'll let you at their core features and functions. It can be quite the task trying to keep track of them all, and most people resort to using the same password again and again for all of the sites. This is not recommended because it makes things very easy for a hacker in case any one of the sites you use is compromised. All they will have to do is try the same password at all of the most popular sites.
The Claim
The makers of Passwords Fast claim that you won't have to remember all of the passwords for all of the sites you frequent, and that it can come up with unique and hard to guess passwords with special characters, the kind that are recommended when you're signing up at a site.
The Hype
They have an infomercial for this that shows people exaggerating the problem of too many passwords, and hyping up the benefits of using the gadget. They even show a girl on her bed with stuffed animals holding a Passwords Fast, but they don't show any sort of laptop computer or smartphone, implying that she is somehow using the device to access her accounts without the use of a computer or phone. They are clever enough to not show someone struggling to transfer the passwords from Passwords "Fast" to their computer or phone.
The Commitment
They try to make this seem like you're spending less time with your passwords, but we're proposing that you'd actually spend the same amount of time, and potentially more time, than using other methods. The way they could fix this is if they were able to add wireless connectivity either through Bluetooth or with WiFi. Keeping it manual is so 1990's, and most people simply won't tolerate having to take a step backwards in order to try to fix their password problems.
Evaluation
Passwords Fast represents a step backward in the wireless and synced world we live in. And while the name hints at it making things faster, it is actually a much slower option than using the password vault options available online. They try to scare users away by saying these password apps can be hacked, but your Passwords Fast device can be lost or stolen, and what do you do then? Even if the encryption is top-notch, the process of retrieving all of your lost passwords is going to be a pain in the you-know-what.
In addition to that problem, the suggestion being made by the manufacturers of Passwords Fast is that you're going to take the time to manually type in your password, looking from the device, to the computer or smartphone, back and forth again and again as you make sure to get the password correct, even if it has special characters, upper case letters, numbers, underscores, and more. This sounds like no fun at all, and like it would take you ten times as long as having the passwords entered for you the way they are with online password managers.
The real solution: Password manager applications and extensions for web browsers and smartphones exist, and make it very easy to fix the problem of remembering your passwords, coming up with strong passwords, as well as different passwords for each site. It might seem a little daunting to rely on any one means of storing all of your passwords for you, and it takes a bit of time getting used to it. But once you see how much time you end up saving, it will make a believer out of you.
Final Passwords Fast Review
Of course the Passwords Fast gadget works as far as storing passwords goes, but there are some inherent flaws that make this just as cumbersome and potentially problematic as whatever system you're currently using. We're giving this the Thumbs Down as far as something that you'd want to use daily as a password manager. See our recommendation below for a better fix. As far as a tiny gadget to have around to store important data like bank account numbers, or to have a main vault for your passwords as a backup, this gets our Solid Try rating.
Our Recommendation
We've been successfully using LastPass for several years now, with no hacking problems to speak of. This is an extension for all major web browsers that will do all of the things that Passwords Fast does, but it will enter your passwords for you automatically, so it's actually, um, fast. You only have to remember you one master password, and the extension does the rest.
What do you think? Does Passwords Fast work or not?