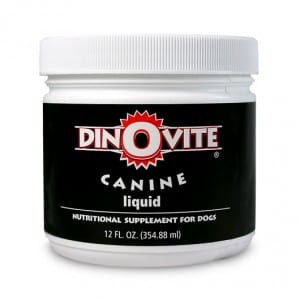 Dinovite is a line of supplemental nutritional products for dogs that is designed to help them with their digestion and provide additional nutrients than they're getting with their dog food. But is it really something they need?
Overview
As a dog owner it can be somewhat confusing about what to feed your dog and what not to. You may be thinking that they not getting enough of what they need even if you are providing to them a quality dog food. You might also be hearing in the news about all of the benefits of omega-3s and digestive enzymes for humans and think that dogs might benefit from them or need them too.
It's hard to know exactly what the right answer is, as some dog owners and vets advocate a raw diet for dogs, giving them raw meat to simulate what they'd be getting in the wild. Others recommend giving them fortified dog food so you cover all the bases. There are a lot of opinions on the matter.
The Claim
The makers of Dinovite say that this is going to help fill some nutritional gaps in their diet and help with symptoms like itching, sores and lesions, a foul odor, crusty skin, and too much shedding. They say that because dog food is cooked at high temperatures it loses its nutrients and becomes nutrient-poor.
The Hype
The hype comes from the idea that dogs need a supplement as long as they're getting a premium dog food. Dog owners want what's best for their dogs and if they see them suffering from a skin condition they will look for all sorts of ways to help them with it. This is presented as a way to help your dog get the nutrition they've been missing out on, and they say that they've been missing out on it all their lives.
The Cost
You can get a 90 day supply of Dinovite for a medium-sized dog for $50. Of course prices vary depending on the size of the package, and this is just an example. That boils down to an extra $17 a month or so, and you have to consider if that makes more sense than simply investing the money in a higher grade of dog food. If you've already upgraded your dog's food and are giving them a vet-recommended dog food made with better ingredients, and you still haven't seen an overall improvement in their conditions, it might be worth it.
The Commitment
This would involve adding a scoop of a powdery mix to your dogs food and mixing it up. It's one more step than just scooping your dogs food into their bowl and giving it to them. Other than that it's not too big of a commitment, but it is not as easy as just buying your dog a top-quality and well-reviewed dog food and calling it a day.
Evaluation
The ingredients on this are listed as containing omega-3 fatty acids, antioxidants, as well as trace minerals, digestive enzymes, and zinc. Not a lot of research has been done in the area of canines and nutritional supplementation for these kinds of ingredients. The theory is that as with humans dogs will respond well to things like omega 3s and antioxidants, or that they need to consume digestive enzymes.
Consider that a dog digests food quite differently than a human does, and also that they have wild counterparts like wolves and coyotes that show how a dog would be living if they weren't domesticated. This provides a nice contrast and shows that a dog could get along quite nicely on a mostly protein-filled diet and devoid of things like digestive enzymes from outside sources like this.
Final Dinovite Review
The final verdict on Dinovite is that it may not even be necessary for your dog as long as you're feeding them a premium dog food. It's common for dog owners to transfer the things that benefit humans and make the jump to it benefiting dogs, but in many respects our nutritional needs are different, and a premium, high-quality dog food is going to check the box on your dog's most pressing nutritional needs. You may be consider adding Dinovite to a lower cost dog chow, but why go through an extra step when you can just buy a dog food that meets all of their needs.
Our Recommendation
It's always good to check with your vet first to see if they recommend a supplement like this for your dog and their specific condition or conditions. Since some users have reported that their dogs have had allergic reactions when starting on Dinovite it's good to check and see what the vet says about giving it to them. Our suggestion is to first upgrade their dog food, and see if that works, and then as a backup you can use a product like this with the vet's approval.
What do you think? Does Dinovite work or not?