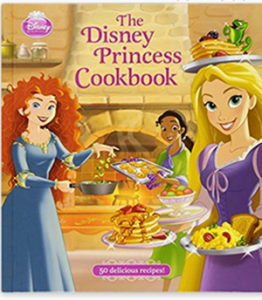 Teaching your children the basics of cooking at a young age helps them gain confidence both in themselves and in the kitchen. The Disney Princess Cookbook is a great way to start off.
Overview
The Disney Princess Cookbook is a hardcover cookbook for children aged 6-8 years old.
The Claim
The claim about The Disney Princess Cookbook is that it inspires young girls to cook and feel like a princess.
The Hype
The hype about The Disney Princess Cookbook is that it is filled with delicious easy to follow recipes.
The Cost
The cost of The Disney Princess Cookbook is $10.49 for a new hardcopy. $13.95 for a new collectible copy and used copies start at $4.15.
The Commitment
The commitment to using The Disney Princess Cookbook is ensuring you take the time regularly cooking with your children utilizing this cookbook.
Evaluation
The Disney Princess Cookbook is a great tool to spend time with your kids and also teach them the basics of easy cooking. Whether it is baking for school events, special occasions, cooking for their family and friends, kids love to see the end result of their accomplishments. This book is a great attention grabber as little girls love princesses and enjoy embarking on the many adventures as the princesses do. This is a very easy step by step instructional cookbook for children to have the ability to find out what happens when you go from step 1 to the various other steps. They learn that to achieve the final outcome; you need to take your time and follow the recipe. They learn all about measurements and how many kitchen tools are used. They also learn about how important proper nutrition is. This book consists of photos for every dish so that the children can view them and make the cooking choices that best meet their eye. It is also filled with cooking tips from the princesses themselves.
Final Disney Princess Cookbook Review
We are going to give The Disney Princess Cookbook a thumbs up. It is very important to teach our children the fundamentals of life. Cooking is one of them. This will set the trend for their future independence. On Amazon, this book is rated #1 in Children's Cookbooks, #1 in Children's Diet and Nutrition Books and #1 in Children's Disease books. It also has been given a 5 out of 5-star rating by 87% of customer reviews. It has rated very high in the Early Childhood Education category. Many customers have stated in their reviews that this book has amazing recipes, and the Disney Artwork of the Princesses are so true to life. All the recipes are fun to make and easy to follow, which makes this cookbook great for any age. This is a great gift to give to your grandchildren and encourages a fun way to spend time with them.
Our Recommendation
We would highly recommend The Disney Princess Cookbook as a great addition to your children's books. This book teaches them to read and follow the instructions to produce amazing baked and cooked goods. It would make a great birthday gift for your kids to give to their friends; then they can share cooking experiences with one another. You may want to check out some other great Disney Books.
What do you think? Does the Disney Princess Cookbook work or not?