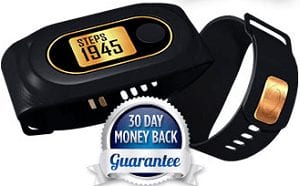 There are so many ways and so many resources to help an individual get fit that it can be time consuming, expensive, and even overwhelming. The Copper Fit Step FX might be a solution that addresses some of these issues.
Overview
The Copper Fit Step FX looks just like a watch and is worn like one, but it supplies you with a lot of information. It will tell you how many steps you have taken in a day. You will know the distance you have covered and it will even tell you how many calories you have managed to burn.
The Claim
The Company claims that the Copper Fit Step FX is well made and is durable. You can wear through any of your exercise activities and it is attractive looking so you can wear it with any attire.
The Hype
Being able to get important information that may help you in your efforts to get fit is really what the hype focuses on. Now this is not a revolutionary product as there are tons on the market and much more elaborate than this.
The Cost
Your cost is going to be $24.99 and that includes your shipping.
The Commitment
You really need to have a reason for investing in the Copper Fit Step FX which should be because you want it to enhance your exercise and fitness regime. This means that you are going to have to commit to wearing it and then tracking the information that it provides you with. You can use the information you collect as your metric for pushing yourself in stepping up your activities each day so you don't become stale in you exercise efforts.
Evaluation
While there are tons of products like the Copper Fit Step FX on the market what we really like about this one is its simplicity. The other choices often come with many features that a lot of people don't put to good use so they are paying for these features that they are never going to use. With this product you have basic but important information.
Final Copper Fit Step FX Review
We are going to give the Copper Fit Step FX a thumbs up rating. Mostly because the price is quite reasonable and the information that it is going to provide you with is a good start in helping you track your fitness efforts. You don't have to worry about hooking up to any software or have a extensive learning process on how to decipher the information that it is going to provide you with.
Our Recommendation
If you are going to go to the effort of getting fit then you really want some good resources to rely on to help you with this. We have talked about a similar device which is Fitbit,but again it may offer a lot of information that you just don't feel that you need. If you find that you have really put the Copper Fit Step FX to good use and you are ready to step up to a resource with more advanced information then you can do this when you are ready.
What do you think? Does Copper Fit Step FX work or not?