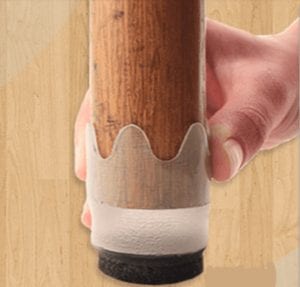 When it comes to protecting your floors it can be really difficult especially when it comes to the potential damage that the furniture can cause to it. There are solutions some of which work better than others, so is Furniture Feet one of those positive solutions or is it one that is doomed for failure.
Overview
Furniture feet are small devices that slip onto the feet of your furniture to act as a guard against them damaging your floors. We all shudder when we have had a new floor laid and someone scrapes a chair across them. With the Furniture Feet being attached to the feet of the furniture you may no longer have to cringe when this happens.
The Claim
The company claims that first of all the Furniture Feet are really easy to install. Then secondly once they are in place they will stay put and do the job of protecting your floors. They also claim that they are really flexible for application so they should work on most furniture.
The Hype
Just the thought of not having your floors damaged which cannot be prevented otherwise is enough hype to encourage the purchase of the Furniture Feet. Then an added bonus is that when you have to move heavy furniture it will glide easier with the Furniture Feet being used.
The Cost
If you buy one set you are going to get 8 small and 8 large Furniture Feet for $10. plus $6.99 for shipping and handling. Then if you want a second set you can get this free with the addition of an extra $6.99. Now that's if you buy it through the TV offer. However, it appears that the same product is selling on Amazon for a 16 pack of the small size for $4.20. This is a big difference in price.
The Commitment
It obviously doesn't take much effort to install the Furniture Feet so there isn't much of a commitment when it comes to effort on your part.
Evaluation
The idea of having furniture feet protection is a really good one, and this is not a new idea. There are several products on the market that offer this protection. The problem is that many times these products are inferior and after a short time they either wear out or become stretched and fall of the feet of items they are being used on. The Furniture Feet seems to be comprised of good quality and although flexible they are designed to stay in place.
Final Furniture Feet Review
Even before checking the Amazon ratings for this product we were inclined to give it a Thumbs Up review, however we felt that the cost combined with the substantially high shipping cost a little high. Being as you can get it on Amazon at a much lower cost overall it really is a good deal. It is a number one seller there so that tells you that for the most part people are happy with the product.
Our Recommendation
It may seem like a bit of a hassle buying a product like Furniture Feet but when you think of the potential damage that the furniture can do to all types of floor as well as carpet then it really is worth the little effort it will take to install the furniture feet. If moving furniture is also a big problem for you then check out EZ Moves.
What do you think? Does Furniture Feet work or not?