If you've ever tried to redecorate or give your home a fresh look, you know what a hassle moving furniture can be – sliding it on carpet is nearly impossible but sliding along wood or tile floors easily scratches it up and damages the flooring for good.
Consider picking up the furniture and you just as well may want to pick up the phone and call the hospital for you back. So what should you do? EZ Moves is a simple, slick product that helps people change their space by making furniture moving as painless and easy as possible.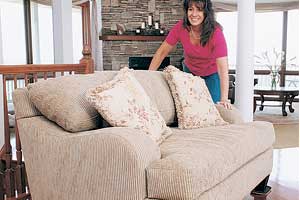 Overview
EZ Moves is a product that you stick underneath your furniture in order to slide it with ease across tile, wood, or carpeted flooring, allowing people to shave off time when trying to redecorate their space. Designed for ergonomics, EZ Moves provides sliders and a lever that serves as a handle to easily pull furniture around as need-be.
To use the EZ Moves, all a user needs to do is lightly lift their furniture and slide the sliders underneath the feet and then attach the lever to the bottom, pulling the piece of furniture along wherever they need it. It's simple, easy, and pain-free!
The Claim
EZ Move's claim to fame is that this product is one of the best ergonomically designed products on the market. With its slider and lever technologies, this product is supposed to make moving furniture easier than ever before, giving your back a break from heavy lifting and strain.
The Hype
There is quite a lot of hype surrounding the EZ Move. Because there are so many people out there who really want to be able to move furniture around and don't have the time or strength to do it. For people who can't move things like furniture on their own, this product is almost revolutionary.
Coming in different shapes and sizes for all different kinds of furniture, EZ Moves is a versatile, new product that is intended to make your life as easy as possible.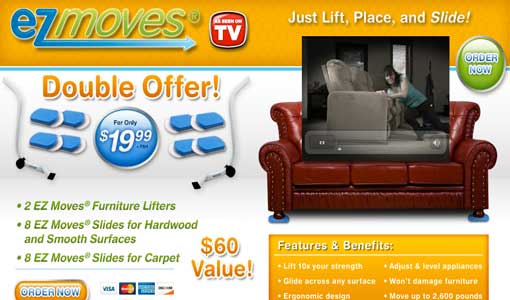 The Cost
EZ Moves has a wide range of products that vary in price and size for your ease. The furniture lifter alone costs $35 for the tallest length and the shoes for the bottoms of your furniture range between $8 and $32, depending on their sizes and whether they are made for professionals or regular consumers.
The Commitment
Requiring virtually no commitment, EZ Moves is a product that is straightforward to use and extremely easy to use. The only real effort you have to put in to the EZ Moves is to lift your furniture slightly to slip the furniture shoes underneath, making it easy to slide around your home.
Evaluation
EZ Moves is a fabulous product for any Do It Yourself home decorators out there. This product allows people to slide furniture wherever they need it to be, protecting your floors and your back at the same time.
The kit comes with all of the pads that you'll need for several pieces of furniture, as well as a lever that is designed to help you prop up heavy pieces like sofas so you can get the pads under them.
While EZ Moves may help people move their furniture, some have noted in their use of the product that it is not as ergonomic as it claims to be, making the user bend farther down than they hoped to have to move the furniture across the floor. Another notable complaint from consumers is that moving furniture near walls or other furniture is difficult with this product because you have to finagle it around, making things unnecessarily difficult.
Final EZ Moves Review
Overall, EZ Moves is an okay product – it certainly makes life easier but it isn't necessarily the best thing in the world. The flaws of EZ Moves can't be ignored in this case, the low angle of the lever makes it so the product is in some ways falsely advertised for ergonomics because it still puts a fair amount of strain on your back.
And the fact that it makes putting furniture against walls a problem because that is where most people decide to put furniture. If we were to have to rate EZ Moves as a product, it would probably receive six out of ten stars – while it is effective and does help make furniture moving easy, it is not, as advertised, simple or painless.
Our Recommendation
Because there are so few tools out there to help with moving furniture, EZ Moves is worth the shot, even if it isn't as effective as the commercials say. EZ Moves is still much easier than picking up the furniture yourself or trying to slide it across your floors only to damage them.
Our final recommendation: try them, but don't invest all your hopes. These will help out your moving to a certain extent, but investing all your faith in them would not be advised.
Official Website: EZ Moves
What do you think? Does EZ Moves work or not?