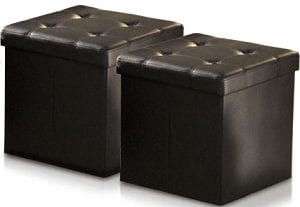 Keeping the home organized is a challenge that most of us have. Let's face it, most of us own so much stuff that even the items we buy for storage take up precious room that we can't afford to lose. There could be an easy solution for this that serves a duel home purpose, and that is the Magic Ottoman.
Overview
The Ottoman in general has been around for year. You know, its that square looking piece of furniture that used to be used mostly for people to put their feet up on when sitting in their big comfy chair. It actually was far more popular before the lazy boy chairs came along, though. However, it is back, and one of these is known as the Magic Ottoman but does far more than act merely as a foot rest.
The Claim
The Company claims that the Magic Ottoman is a super sturdy storage box that looks just like a classic Ottoman that when not in use can fold down to the size of a pillow and be easily stored in a drawer. They state that although this item is lightweight and compact that once set up it can endure the weight of a 200 lb. person standing on it. They give credit to the patented stay lock panel that is is inside this unit for this durability.
The Hype
The hype zeros right in on all the irritating factors that we deal with when it comes to clutter. This Magic Ottoman storage box is a good size for holding a lot of the times that end up making the home look messy. It serves an additional function as acting as a sturdy seat, or can serve the classic purpose of being a foot rest. Then when you don't want to put it to use, it simply folds up for easy storage. It is well made and comes in basic colors so it fits in with the decor of most home. So all of the questions or potential arguments against investing in this type of item have been identified and addressed through the hype.
The Cost
For about $28. you can get one of these storage units which includes the shipping and handling and allows you a choice of one of three colors. If you want to throw in an extra $13. you can get a second one.
The Commitment
Like anything you buy you will have to make up your mind that you are going to put the Magic Ottoman to good use, and really have a purpose for it. For those that have a tendency to buy novel items such as this and then use them for a few times, then put them away and forget about them, then its probably not something that you will really need.
Evaluation
There are tons of different types of storage items on the market but what makes this one kind of attractive is that if you are a little creative you can really find lots of reasons for using this item. It is great just as an extra seat if you are having company. Then also if you are entertaining and there are a ton of shoes that are going to end up at your front door, this would be ideal to quickly set up to store them. Another great use would be for the hats and mitts that usually end up all over the house in the winter time.
Final Magic Ottoman Review
We are going to give this product a Try/Buy rating. While it looks like it is made of good quality and when you compare it to the looks of the Wellington Tray Top Ottoman it really looks quite good, the Company doesn't talk a lot about what materials their product is comprised of. It also has the added feature of being able to flip the lid so it can be used as a top tray.
Our Recommendation
There is probably a lot more uses that you will be able to think of that you could use this collapsible storage unit for. For those that love to go camping, it might be ideal for using it in the tent to store items and use as a tent. Likely though if it is exposed to too much dampness it may end up breaking down, although the Company does say it can be used in the bathroom for storing items as well. Probably one of the best uses this Ottoman could be used for is the kids clutter. We all know what that can be like and we have talked about this before when we did our review on the Homework Caddy.
What do you think? Does the Magic Ottoman work or not?