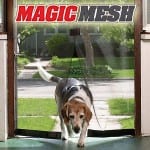 Everyone loves a little fresh air, but there are very few people that like the bugs that come along with it. For the majority of people that don't want bugs in their home but maybe don't have a free hand to close the door behind them when they walk outside, this can be a deterrent from spending time on the patio or in the yard.
Magic Mesh attempts to solve this problem by creating an automatically closing screen "door" that doesn't need to be opened or shut – just walk on through and it will gently snap closed behind you!
Overview
Magic Mesh is a cover for your door in order to make sure that bugs and other pests stay out while allowing you and your family to get in and out as you please. The product supposedly works by having a series of sixteen super strong magnets that attract each other to seal up the space you walk through, making it easy for you to break through but creating a solid surface so bugs can't permeate it once it has been shut.
The Claim
Magic Mesh claims to create an impermeable door that bugs can't get through when you walk in and out of your house, giving you protection from all the creepy crawlies in your life. Advertisements say that Magic Mesh is great for avoiding slamming doors because it closes gently with light snaps of strong magnets, making it so a person can get in and out with ease but still have a door close firmly behind them.
The Hype
Magic Mesh doesn't receive much press, all things considered, only being advertised on its website as well as in infomercials. Because of this, there isn't way too much hype surrounding the product, but it does excite the interest of people who love to be outside without having the outside follow them inside.
The Cost
Magic Mesh is a lot less than the cost of a sliding screen door, only lightening your wallet by about $20 plus shipping and handling. This cost covers Velcro strips to hang the product with, as well as the product itself.
The Commitment
There is definitely a fair amount of commitment in the installation of the Magic Mesh product when you first get it. Magic Mesh requires a lot of precision when being hung so that the magnets line up perfectly, otherwise it will not work. This requires time to hang and possibly a level to make sure that everything is straight, but other than that this product requires little to no attention, just needing to be set up and forgotten about.
Evaluation
While Magic Mesh works perfectly in commercials, it is not so easy to fit to your door in real life. Consumers complain on how it doesn't align properly and therefore doesn't close like it is supposed to, allowing the door to fly open and let in the bugs. We think this is due to part user error, and part design flaw. It takes time to install correctly, and even when done correctly, it may still take some tweeks to make it as effective as it can be.
Final Magic Mesh Review
Magic Mesh is a great concept and product, but does have some flaws. It will keep most of the bugs out, but not all of them. With some craftiness on your part, it will fit your door better. But it is still not perfect. If you are expecting a miracle substitute to your traditional screen door that will keep just as many bugs out and let your dogs have free range of your backyard, then perhaps you should pass on Magic Mesh. However, if you want a screen door that will give your dogs free access to your backyard while protecting your house from most of the bugs, then we suggest getting Magic Mesh. It is less expensive, less permanent, and just as effective as installing a dog door.
Official Website: Magic Mesh
What do you think? Does Magic Mesh work or not?