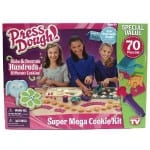 Today, most parents like to introduce their kids to cooking, and Press Dough seems to be a good way to get them baking. They encourage their children to assist them in cooking, while others use it to spend quality time with each other.
Nowadays, kids have so many high-tech gadgets, and it seems like they already have everything sold in stores. However, they also have to explore other areas like cooking. With this, they can acquire skills like teamwork, cooperation, time management, and sense of responsibility. But now, the innovation of a new kitchen toy will give the kids something to be busy with.
Overview
The Press Dough is a 70 piece cookie character set which allow kids to bake cookies in different styles, and shapes, which could either be in the form of animals like dogs, lions, monkeys, elephants, etc. What's more, the Press Dough allows you to use the handheld extruder to make other shapes for cookies. These toys are safe, fun, and easy to use, and child friendly. And most of all, it's a device which can help moms, or dads, in the kitchen.
The Press Dough actually looks like a combination of a Play-Doh factory and food creation. This is a toy especially designed for the kids. But they will always need the help of their parents in mixing the dough and in using food coloring to make colourful cookies, as well as working the oven and transporting the cookies in and out of it.
The Claim
The claims come pretty quickly in the Press Dough infomercial. For starters, it claims to be able to make your cookies taste better. Although since Press Dough does not actually help you make the dough in any way, it's hard to imagine how it could make a cookie more tasty. It might make a cookie more interesting or fun looking, but whether this transfers to your taste buds is a matter for debate.
They also claim that it's easy to make all of the fun shapes and designs, although some of those that are shown look like they'd be rather complicated, and others don't really look the way they're supposed to.
The Hype
Parents have become more familiar with the product as video clips have spread over popular video sites that show Press Dough and the convenience it gives when baking delights for their kids. Aside from that, word-of-mouth marketing has become an effective advertising tool as users have shared their great experience using Press Dough and after finding out that what the product claims is true. Kids who invite their friends over get to see the product and would leave their playmates' homes with the desire to have Press Dough as well.
The Cost
The kit costs $19.90, excluding the additional shipping fee and handling which costs $8.99. When you buy the entire set, you get another one free of charge. This offer is a pretty good deal, especially if it is for the fun and excitement your kids will have and experience.
The Commitment
When you buy yourself Press Dough, you will experience real fun. It does not only help you create cookies, but gives you quality time to spend with the entire family as well. The Press Dough will really give you so much of what you need for your family. Strengthening the family bond is something that more households in America need to commit to, so perhaps Press Dough can provide even more than their manufacturer intended.
Evaluation
This set of toys can undeniably make beautiful cookies, which could look really appetizing if the instructions are closely followed. It can offer you cookies in different shapes, which your kids will enjoy making and enjoy eating too. In the set, you will get more than what you pay. It contains 24 cookie molds, 24 cooking patterns, 8 frosting tips, 4 cookie shapers, 2 rolling pins, 2 cutting wheels, 2 spatulas, and 2 flour shakers.
Final Press Dough Review
This Press Dough is one of a kind, even though its design and concept is rather simple. It is a simple kitchen toy, which can make delicious and appetizing cookies all at once, and make it fun while you're doing it.
Our Recommendation
Not everyone is interested in cooking or baking. However, this kitchen toy is something your kids will surely love. The Press Dough is a very good item to have handy. Many kids enjoy using the Press Dough, so we recommend that you get one as well. It will really give the children so much fun, especially on breaks or on holidays.
Overall, the Press Dough is an excellent toy for children. For those who do not love cooking at all, they will get involved in these activities and start to engage in baking as well. They will be satisfied and will have a fun time creating a variety of cookies.
What do you think? Does the Press Dough work or not?