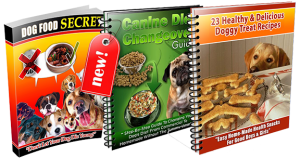 Lately we have been focusing on a few dog products. This is because spring is the time of year where a lot of people tend to buy dogs and may need some extra help in choosing the right products for them. One very important product is dog food so we wanted to see if Dog Food Secrets was worth investing in.
Overview
Dog Food Secrets is jammed packed full of information that you absolutely need to know when it comes to feeding your dog. It will open your eyes as to just what might be in those well-known dog food brands that you may be spending a small fortune on.
The Claim
The promoters of Dog Food Secrets is promising to deliver some factual information about what you may be feeding your dog that could potentially horrify you. For instance does your regular dog food contain by-products from other animals that have been euthanized? Or does it possibly contain animal feces?
The Hype
All of the hype comes straight at you when you check out the marketing material and discover what is going to be revealed to you in the Dog Food Secrets offering. If this doesn't grab your attention then you can almost bet what is between the covers of the Dog Food Secrets book will.
The Cost
While you won't get to see the price from the promo page until you add to cart, you are then going to see some unique offerings.You get to choose from three different packages. There is the bronze package for $27. plus a Silver package for $47. and finally a gold package that is currently being reduced from $127. to $47. You will want to study these offerings carefully to see which one interests you the most.
The Commitment
No matter which Dog Food Secrets package you choose you are first going to have to take the time to read it. Then you may want to take the time to study it more intently. Then finally you are going to have to decide whether you want to apply what it is suggesting.
Evaluation
For those that aren't dog owners this may seem like a whole lot of work when it is easy to just trot off to the store and quickly glance at the dog food labels and then pick out one that doesn't seem too bad. For dog owners however, they are becoming much more concerned as to what they are feeding their beloved canines. In many cases, they have spent a lot of money on the purchase of these pets. Not to mention how quickly they become such a valuable family member. They no longer want to guess at what they are feeding them. They want the best and they want to be informed. This makes the Dog Food Secrets such a valuable informative product to have.
Final Dog Food Secrets Review
We are going to give the Dog Food Secrets a definite thumbs up rating. In fact, we consider it to be an almost "must have" for any caring dog owner. It is really going to be a time saver for those that have an interest in knowing what they are paying for when it comes to the dog food choices they are buying.
Our Recommendation
We really do recommend that you at least review the promo material for Dog Food Secrets so you can form your own opinion as to whether it is worth investing in. We also encourage you to check out some of our other Pet Products reviews.
Official Website: Dog Food Secrets
What do you think? Does Dog Food Secrets work or not?