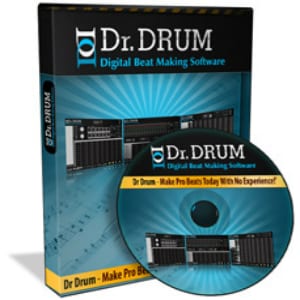 If you've ever wanted to be like Dr Dre, Dr Drum says it can get you there. But can a software like Dr Drum really even the playing field and get your foot in the door with top record execs? They seem to think so, so we took a more in-depth look at what their software provides, and looked at some of the competition it has to see which program works best.
Overview
Making beats has up until recently only been possible by owning really expensive mixing equipment, or really expensive and complicated software. The pros use a mixture of both, but for them price is not a concern. For the rest of us we need a way to get around that so that the music industry gets a little more accessible. Enter Dr Drum, which promises to bring professional grade mixing software down to a price that most anyone can afford.
The Claim
Dr Drum claims that with their software you'll quickly be able to learn how to make great sounding beats, the kind that win Grammy awards. They say that you don't have to learn how to use the complicated mixers that are out there, but you'll be able to come up with original beats that you can either rap to, or use for dance mixes, and even sell for a profit. They also claim that it works on both PCs and Macs.
The Hype
The hype is that there's still going to be some artistry required if you want to make original, hypnotic beats like some of the top pros out there. If you've got a knack for cooking up a good beat, and you just need a tool to help you get it out of your head and into a sound file, this is probably just for you.
The Cost
The cost of Dr Drum is $40, which basically means you have to try it. No other software out there comes close at this price point. If you don't like the way it works, just get your money back within 60 days. That's plenty of time to try it out, and make a ton of beats.
The Commitment
Even though they say that their software is easy to use, you will still have to learn how to use it, and put your own creativity into it so that you get original-sounding beats. They start you off with some samples, but its your job to mix them up enough so they are truly yours.
Evaluation
This is a nice piece of software, and since it is dedicated only to making beats, it doesn't over-complicate itself and have a bunch of features you don't even need. The interface can be a little overwhelming if you're a first time beat maker, but after a little bit of a learning curve you should find it easy enough to navigate to what you need. With their instructions and tutorials, it's easy enough to follow along with and learn your way around.
We like how this doesn't use MP3s so you get professional-grade audio files that haven't been compressed. MP3s are the mark of a rank amateur when it comes to the recording industry, so be sure your music sounds its best by using uncompressed files like the ones this comes standard with. We also like that you won't have to pay more later for future updates, this is a one-time payment. It's also good that you don't have to worry about minimum specifications on your computer, as it runs on anything.
The last cool thing we found was that it will automatically make videos to go along with your beat and send them to your YouTube channel. This is a great way to build exposure for yourself, and a way for tons of people to find your music.
Feeling Entrepreneurial?
They give you a report on how you could sell the beats that you create. This can turn it from a mere hobby into a cashflow generating small business, or even a professional career. They say the key to life is do what you love and get paid for it, so this can really be something you would want to get involved in. There are plenty of people that needs beats for their videos on YouTube, or because they need something to rap to. If you get creative with your sales approach, you can find any number of people to sell your beats to.
Final Dr Drum Review
They've got this set up right. It's easy to use, and the instructional videos will get you started ASAP, and starting is really the hardest part. If you just immerse yourself in it, you'll find that you have what it takes to make beats that sound like a pro. Maybe you won't live up to all of the claims they make, like being asked to DJ or having women swoon at your feet because of your beat-making skills, but hey – you never know.
Our Recommendation
When it comes to making your own beats, you only have so many options, and at this price point Dr Drum is making it hard to pass up. Since they've taken the risk out of trying it with the money back guarantee, you really owe it to yourself to try it out and see what sort of mixes you come up with. Maybe you won't win a Grammy, but if you have a good time with it it's definitely worth the money.
What do you think? Does Dr Drum work or not?