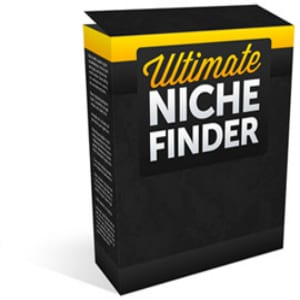 If you've been smashing your head against the wall trying to find a niche, and related keywords for it, you're probably wondering if Ultimate Niche Finder will solve your problem. This is an SEO tool that promises to make the chore of keyword research a lot more bearable. But how good is it really, and how does it measure up against its competition?
Overview
Niche marketing has been popular for a long time now, and the basic theory is you'll be able to generate more quality traffic if you drill down enough and find niches that people are passionate about, but that aren't covered in detail by the major authority sites. You basically go for enough low-hanging fruit that you end up getting the same results as going for the big keywords that are heavily contested. But finding a niche can be a difficult task, and when you do, you usually find that there's already a lot of competition out there with the same idea you have.
The Claim
The makers of Ultimate Niche Finder say that you will be able to come up with an unlimited amount of keywords just by starting off with one seed keyword. They claim all you have to do is click one button and let it do its thing and upon your return you'll have a horde of micro niche targeted keywords.
They also say that you will be able to get accurate and quick analysis of your competition, and it will let you know about how many backlinks you'll need in order to rank for any given keyword. They use the info from the top three ranking websites so that you'll know how to rank at the top of the page, not just on page one. They also say that you'll quickly be able to determine how hard or easy it will be to rank for a keyword, because they have a color coded scoring system.
Using their software they say you'll also be able to instantly check domain available, so you can pick up exact match domain names for certain keywords. One feature that they say sets them apart is the ability to use different languages, since it is able to search for keywords that contain accent characters, like those used in Spanish and Portuguese.
And finally they say that you'll be able to tell whether a keyword is a "buying" keyword by analyzing the Online Commercial Intent, which gauges the amount of times a search leads to a purchase.
The Hype
The hype comes from the fact that they're trying to get you to believe that if you buy their product you'll be a niche marketing champion and finally start making some real money online. However, finding a niche is only the first part. You have to build a stellar niche site with quality content so that you end up creating fans and followers to your site. There's not a good tool for that part of the task, so don't get overly excited about generating a giant list of keywords. It just means you've got your work cut out for you now.
The Cost
Clocking in at around $100 this should be considered a direct competitor to the Micro Niche Finder we've previously reviewed. It's sold through ClickBank so you'll get 60 days to try this out, without fretting on whether you've made the right purchase decision or not. It should be able to prove its value by then, and you'll either want to stay with it, or won't mind giving it up.
The Commitment
The overall commitment level for this should be a decrease in the amount of time you have to spend doing keyword research. If you have to do your own keyword harvesting, or use the free software that's out there, you're probably not going to get the sort of features you will with this, and you'll end up spending more time than you need to, taking you away from the real work you need to be doing, which is building a quality site.
Evaluation
These sort of tools are interesting in that they are pulling information that is freely accessible on the Internet, but they are doing it so quickly, and organizing it so neatly, running it through different metrics so that you can make an educated decision in a matter of minutes. It's really invaluable to an Internet Marketer that's been having trouble brainstorming keyword ideas.
By instantly sizing up the competition, as well as the likelihood that a visitor will end up buying something or not, you can make better decisions on which keywords to go for. That way when you're just starting off you can get some money coming in quickly, which builds up your excitement and sustains you until your site can start ranking for the more competitive and highest paying keywords.
Final Ultimate Niche Finder Review
Seeing the Ultimate Niche Finder in action, it's not to hard to see that it does indeed work. In fact, these keyword research tools aren't really rocket science, but they do make a mundane task less mundane by making it quicker and more effective. It's not a matter of if you need a keyword research tool, it's just a matter of finding the best one suited to your needs. UNF is worth checking out, but don't think that it's the only thing out there that can help you, and be sure to explore your alternatives.
Our Recommendation
You should weigh this against other keyword finding programs like Micro Niche Finder. In fact, it only makes sense to get them both and return the one that you don't like, since they both make the same basic claims, and they're both covered by a money back guarantee. When building your SEO tool kit, you have to get out of the mentality that there's one magical software out there that is going to change everything, and finally unlock the key to riches. It's a matter of testing out a lot of different products, returning the ones you don't like, and keeping the ones that help you make money.
What do you think? Does Ultimate Niche Finder work or not?