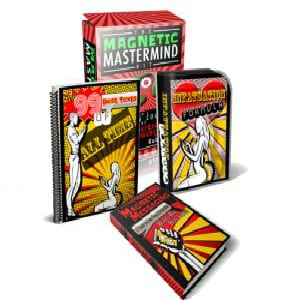 Magnetic Messaging says it can win a girl over with just 3 texts. The dating game has changed a lot in recent years, and now a lot of contact is made with text messaging. It's the way to flirt, make plans, and even make moves. If you're not savvy with what you say, and you don't know what to thumb into your phone to make things work in your favor, you're probably ready to buy this program, but are wondering if it really works or not.
Overview
If you've been lagging behind in the new technologies being used in the dating scene, you really need to catch up with the times. Nobody calls anyone these days, it's too intrusive. The preferred way to make first contact is with a perfectly crafted text message. It's unobtrusive, and if properly done can convey your personality and get the ball rolling. Contrarily, if it's not done right, it can kill your chances for anything further, or establish you as a friend, or acquaintance even.
The Claim
They claim that you can turn a girl on with just three text messages. The idea of being able to do this is enough for most guys to want to give it a try. It sounds just feasible enough to work. In addition, they also say that you can quickly plan a date with a girl after just meeting her, totally dismantling the three day rule. They also say you can get things to do a 180 if she's started to lose interest in you. If you've written a girl off as the one that got away, they say you'll be able to get that back on track as well.
These are some pretty amazing feats to accomplish with just your cell phone, but it has become the way to communicate, and these messages should be able to work within Facebook messaging as well. You're not just getting a gimmick here, you're getting a dating guidebook, that uses texts as its main weapon.
The Hype
The hype is that all girls will respond to the same text messages the same way. Women are not automatons that will respond exactly the same way to the same stimulus in each situation. Nor can you classify them so simply into different types. Be sure to analyze each situation individually, and only use this as a guide, not a cut and paste sort of system.
The Cost
The cost of Magnetic Messaging is $47 and it's sold using ClickBank so you don't have to worry about losing your money if you don't like it. You have a full two months to try it out, which should be plenty of time to see if it works for you or not.
The Commitment
You're going to have to commit to learning the system, even though they say it is comprised of just 3 texts, it's really a philosophy and a full program that you're going to want to digest so you know how to cover anything that might pop up during the relationship.
Evaluation
The system is pretty good in that it will spark your creative juices, and allow you to construct your own, customized messages all under the guidelines of what they suggest. You're going to have to put your own personality into this, as it's not just a matter of copying what they say word for word. It's the guideline and the theory behind why you're sending a specific text – or not sending a text that you normally would – that is the real gold here. Most guys text the same way that they would when making a phone call, sending an email, or talking in person. There's no game plan, it's all just off the cuff and what they think she wants to hear at any given moment.
By going in with a strategy you automatically tilt things into your favor. It provides a level of focus that is lacking in the competition. It also puts you in an authoritative place because you will know how to interpret what she is saying, and will know what the best message is in the moment, without second guessing yourself, and without having to text your way out of a hole.
We like how they cover sending "witty" texts and explain why these shouldn't be used. There was a study done a while back involving emails and text messages that said less than half of jokes involving inflection, or saying the words a certain way are only correctly interpreted less than half the time. She might not even get your witty text, and you've shot yourself in the foot.
Final Magnetic Messaging Review
We like that this puts the point of power in a text message, because it gives you time to think and you don't have to worry about getting tongue tied in person. For those of us that get nervous when we're around a girl we like, this is a great way to break the ice, and takes out some of the stress involved in trying to get a girl to like you.
Magnetic Messaging is getting our Thumbs Up as a definite try. It's not going to work for every guy that uses it, but if you absorb the theories and put it into practice like they recommend, you should see a marked improvement in your confidence level, and be able to see a difference in the way women treat you. It should give you enough self esteem to ask out more women, increasing your social life as well as your love life.
Our Recommendation
Keep a level head and give Magnetic Messaging a try. If you find it useful, by all means keep it. But if you put it to use and don't see an improvement in your social and love life, then get a refund within 60 days. You really don't have anything to lose, as it's not going to make you any worse off than you are now when it comes to interacting with the fairer sex.
What do you think? Does Magnetic Messaging work or not?