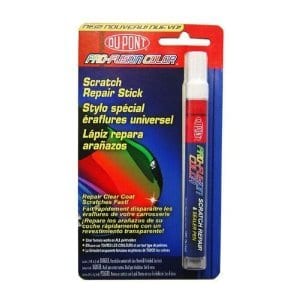 The DuPont Scratch Repair Stick is another entry into the crowded market of products that are designed to help you save on the high cost from a body shop. This time it's from a trusted name brand, but does that make any difference?
Overview
Nothing can dampen your car's appearance more than a scratch or a nick on an otherwise good looking paint job. The real kicker is that for such a minor repair you could be looking at over $100 to have a pro do it. The alternative is to try to fix it yourself using an assortment of different products all claiming to bring your finish back to new. DuPont has put it in pen form so that it's easy to use in order to cut down on user error.
The Claim
The main claim made on the DuPont Scratch Repair Stick is that it can work on any color of car. This is something that a lot of these products claim and it's a way of avoiding having to color match the product to your paint job, which means they don't have to produce and store hundreds or thousands of colors if they can get it to work for most colors. They say it works on a long list of different items in addition to cars, including boats, bikes, or other things with a painted surface, and that it leaves behind a clear coating.
The Hype
The hype mainly comes from this being from a big brand name like DuPont. Many people associate DuPont with their stainless carpeting and other goods, and it's not too far of a stretch to see how they could make a product like this. The idea of saving so much money by making your own repairs to your paint job is just too big of a lure, and many people are trying this out in an attempt to save money.
The Cost
Amazon has the DuPont Scratch Repair Stick at $24 for one, but you can buy them in bulk for about the same price if you have a CostCo membership. But before you go rushing to CostCo to sign up, you'd better read the rest of our evaluation. Because while it may sound like a no-brainer to spend $24 rather than $100 or more at a body shop, it only makes sense if this repair stick actually works to make the repair.
The Commitment
This would require more involvement on your part than just having someone else do it for you, but that's the trade off with DIY products. Compared to other scratch fixers out there, this seems to be easier to use, since it works just like a pen so you can get very accurate and there's not a lot of messy paints and brushes and films to have to try and get right.
Evaluation
The DuPont Scratch Repair Stick gets a fair amount of lousy feedback from users. The overall consensus is that it ends up leaving the scratches, markings, and other imperfections looking worse off than when you started. It's been compared to clear nail polish, and tends to only attract more attention to the scratch rather than less. Those that have tried it have said that they will be returning it, and others simply say it's not worth the time and expense of trying it.
Personal experiences don't really count on this one, since there are so many different types of cars, paint jobs, and imperfections, but when enough people report the same or similar experience it starts to get meaningful, and you can begin to get an idea of how it would work for you.
Final Dupont Scratch Repair Stick Review
The DuPont Scratch Repair Stick is getting our Thumbs Down rating, based on its poor performance in the real world when used on real scratches by real people on real cars. Some have tried to explain that it is not intended to fill gaping scratches or gashes in the paint, and you can't use it for deep scratches that are down to the metal, but even for surface scratches the verdict is that it simply doesn't improve the appearance in any way.
Our Recommendation
With so many junk products when it comes to getting scratches off of a car, there really isn't one clear winner that actually works. The best bet seems to go with a product like EZ Chip Repair that actually matches to your car's paint job based on the make and model. Most of the products we've seen that say they work on any color, don't actually work. This one takes that problem out of the equation, and all it takes is a little detective work on your part to find your car's color code.
What do you think? Does Dupont Scratch Repair Stick work or not?