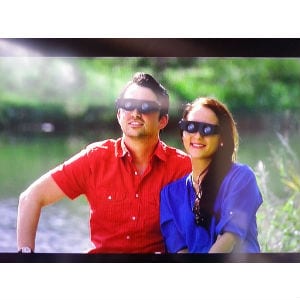 Zoomies Binocular Glasses are pitched as a way for you to get the benefit of binoculars without all of the hassle that comes with binocular ownership. So how well do these suped-up glasses work once you put them on?
Overview
There are plenty of instances where having a good pair of binoculars comes in handy. But the thought of having to haul them around makes you leave them at home. Or the thought of paying for an expensive pair of binoculars makes you reluctant to get them. Plus, using them in the moment can actually take you out of the moment because it doesn't take long for a heavy pair of binoculars to tire your arms out as you're viewing.
The Claim
The big claim from the makers of Zoomies binocular glasses is that they can give you 300% zoom just by turning a dial. They also say that using these are easy because as you turn your head they move with you. They say that they fit easily into your pocket so you can take them with you, and there is even a carrying case for this purpose. They say you won't need to lug around heavy and burdensome binoculars, or even magnifying glasses.
The different purposes they've come up with for these glasses include bird watching, taking them to sporting events or concerts, and basically anything else with arena seating that puts you away from the action. But they also say they can be used for things like reading, arts and crafts, sewing projects, and even watching TV, so there are plenty of at-home uses as well.
The Hype
The hype comes in the form of saying that these provide 300% zoom. That makes it seem like a lot, but consider that this only brings an object three times closer in your field of view. That's not a whole lot. A pair of decent binoculars will get you eight or even 10 times magnification. Any greater than that and things start to get too shaky when you move your hands. So right away we see that even if they live up to their claim they're still falling far short of the power of binoculars.
The Cost
The Zoomies binocular glasses offer comes to $26 and gets you two pair of them, so about $13 per pair, but you have to buy them in sets of 2. Compared to binoculars that's a fraction of the price, so it's important to make sure that you understand just what it is you're getting here, because if it sounds too good to be true, it probably is. Getting a binocular-quality product at such a reduced price really would be a deal.
They have a 30 day money back guarantee, but they are banking on the fact that you won't bother to return them since all you'll get is $10 back, plus you'll be out the return shipping costs in addition to the $16 you've already spent to have them shipped. So no matter if you like them or not, the company is going to profit from your order.
The Commitment
The draw to a pair of wearable binoculars is that you wouldn't have to lug around a pair of binoculars, or wear yourself out by holding them up to view through them. If they worked these glasses would help you to enjoy certain activities more without worrying about carrying and holding an expensive pair of actual binoculars.
Evaluation
The make or break factor when it comes to Zoomies binocular glasses is whether they really do bring things closer for you so that you can not have to use a pair of binoculars. That's pretty much what their entire pitch is based on, as they point out all of the drawbacks of binoculars, the size, the weight, etc. In order to not have to use a pair of binoculars these would have to be a suitable replacement.
Even if you have a regular pair of binoculars you're still going to end up getting about 7X magnification. That alone is more than twice as much as what is being offered here. What's more, real world testing reveals that the actual zoom that you're getting with Zoomies is not 300% but closer to 200%. In essence, it isn't doing much at all, and not nearly enough to justify wearing the contraption.
Another aspect of these glasses is their appearance. Some have likened it to the cyborg look, but no matter how you cut it they're not the kind of glasses you'd wear as a fashion statement, or that you'd want to wear for extended periods of time.
Final Zoomies Binocular Glasses Review
The Zoomies binocular glasses can't really be called binoculars because a standard pair of binoculars is going to get between 7 to 10 times the magnification, and this is only billed at 3 times, with testing showing that it's really only about 2 times. While having things appear twice as close might seem like a lot, especially if you buy into the hype, it's not worth wearing these glasses, or worth the expense.
Our Recommendation
You'll likely be disappointed in these when you get them, as even 3 times zoom doesn't amount to much, and since they don't even live up to that you're not getting much of a magnifying effect, and far short of what is shown in the infomercial. Everything about the product, including it's pricing structure causes us to recommend against it.
What do you think? Do Zoomies Binocular Glasses work or not?