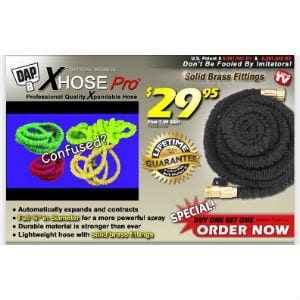 The XHOSE PRO is the follow up to the enormously popular original XHOSE, and boasts some new features that are supposed to make it even better. So how well does it stack up to the original?
Overview
You've likely seen an ad for an expandable hose, because the XHOSE came out at roughly the same time as a bunch of other expandable hoses, and it's hard to tell which one came out first and which ones are the imitators. Often the only difference is the color, so
The Claim
The main claim by the makers of the XHOSE PRO is that it's a new and improved model of their original, with brass fittings and a higher quality material so it's more durable. They say it's covered by patents, which checks out, and should put an end to the debate about which expandable hose came out first.
The Hype
Riding off of the success of the original seems to be a very effective way of selling a boatload of your next product. It's pretty interesting to note where they've made improvements, particularly on the brass fittings, and making this a little stronger than the original so it can be used for professional jobs, or in a professional role where it's getting daily use and still expected to work every day.
The Cost
At $46 for two of them, the XHOSE PRO costs a bit more than the original. There are different prices depending on which size hose you want to go with. You can go all the way up to 75 feet for $90 for two. Comparing that to $36 for two of the original 25 foot hoses and you can see that they boosted the quality without boosting the price too much.
This version has a lifetime guarantee which involves just paying the shipping and handling charges and having them send you out a new one without having to buy it again. That's something the original model didn't have.
The Commitment
If you're a professional that uses a garden hose everyday you won't have to worry about getting your use out of this hose. If you're just a hobby gardener or weekend yard waterer you might not use it as much as you're hoping to. But overall it should reduce your level of straining and fighting with your current hose due to its lightweight nature and shrinking ability.
Evaluation
As long as you're using the XHOSE PRO the right way you shouldn't have any problems with it. That being said there are a few things that need to be done in order to get the best experience with it. First, you'll want to make sure that you're turning the water on at the source and not leaving your hose sitting around with the water on. This can put a constant load of pressure on it and will wear it out quicker than if you only run water through it while it's being actively used.
The other tip is to use a nozzle on the end of it, like a spray gun. While it isn't necessary, it will get you the best results possible and will increase the likelihood that you'll enjoy the experience. This will give you added accuracy for what you're spraying, and it will make the entire process of using the hose more enjoyable and easier on the hands.
It's important to note that this is the same company that made the original XHOSE, they have now partnered with DAP to get a name brand on their product. It's a good partnership because it adds even more credibility to the hose, as DAP has been a trusted name in the home improvement industry for decades.
It's interesting to note that they've made this one even stronger and more durable than the original, yet they have managed to keep it light so that it retains the same benefits. They must have been listening to customer requests and complaints and designed a hose that addresses those and turns them into new features.
Final XHOSE PRO Review
The XHOSE PRO is getting our Thumbs Up rating due to the fact that they took an already successful product that has been tried and tested in the real world and shown to be effective, and made it better. They didn't have a lot of room for improvement, but they found a way to do it anyway with the brass fittings.
Our Recommendation
If you didn't already get the XHOSE and are wondering if you should pay more for this one or just go with the original, we'd recommend paying a little more and then not having to worry about buying another hose ever again. Just be sure to keep your receipt, which is easy to do because it will be in your email archives, and take them up on their lifetime guarantee if you should ever need to use it.
What do you think? Does the XHOSE PRO work or not?