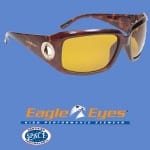 If you've been looking for a good pair of sunglasses at a reasonable price, you no doubt took an interest in Eagle Eyes Sunglasses. The television spots make it seem like you'll see a whole new world when you put them on. They also bring up the concept of using NASA-based technology in the lenses. But is it all hype, or do they really work?
Overview
Sunglass manufacturers have been trying to design and develop better eyewear for many decades now, but just in last two has there been moderately priced glasses that are able to drastically reduce the amount of glare from the sun. The most well-known of these is BluBlockers, which ran television ads for many years in the 1990's.
Since then there has been several different brands to enter the market of sunglasses advertised on TV,Eagle Eyes Sunglasses being one of them.
The Claim
The biggest claim that the makers of Eagle Eye Sunglasses make is that they are using space age technology developed by NASA in their eyewear.
The Hype
The hype is that these sunglasses will make a striking difference to what you can and can't see, and that they will be way better than ordinary sunglasses.
The Cost
Even though they seem like they are simply a sold-on-TV product, there's actually an entire line of models that you can buy. If you buy direct from the website you can look to spend about $40 for their lowest-priced pair, all the way up to $100 for a titanium framed model.
The Commitment
If you're already used to wearing sunglasses outdoors, then you won't need to do much to your lifestyle to accommodate Eagle Eyes Sunglasses. Just replace your current pair with them when they arrive.
If you currently don't wear sunglasses, or don't have a pair, but recognize the need to protect your eyes from the sun's rays, you will need to get used to bringing them with you everywhere you go, and to put them on instead of squinting in the sun.
Evaluation
When put to the test against standard sunglasses, the Eagle Eyes gave relatively the same improvement in vision in sunny conditions. It also gave everything a yellowness, which regular lenses don't do. If you think that you'd prefer a yellow, but less darkened view of the world, you would probably prefer them over conventional sunglasses.
However, if you feel that you wouldn't be able to seeing the world with a yellow hue to everything, then you should stick with a regular pair.
As far as quality goes, and whether you buy into the hype of NASA technology, you may still want to use them and just get used to their yellow nature. It's impossible to determine whether or not they are effective at blocking the UV and Blue-light that they claim.
On their website they have a pretty good-looking blue-light test that makes them appear to be rather effective. How this translates to actually using them and having better vision in real-world scenarios is yet to be determined.
Do Eagle Eyes Sunglasses Really Work?
They do provide a good level of protection from the sun for your eyes. The Eagle Eyes Sunglasses may not live up to the expectations set by their advertisements, or the claims made, but as far as making a giant improvement in your vision they are pretty much the same a normal pair.
It is up to you whether you want to believe the claim that they are using NASA-developed technology. It is our impression that they wouldn't be authorized to use the NASA name on their site and in their ads. They don't use the logo, but we think NASA would have filed a complaint by now if the claim wasn't true.
Our Recommendation
If you need a pair of sunglasses, or your current pair just aren't measuring up, you can get a pair of Eagle Eyes Sunglasses and be relatively happy with their performance. They are not super cheap, and you can pick up a pair of HD Vision Ultras for about half the price.
What do you think? Do Eagle Eyes Sunglasses really work?