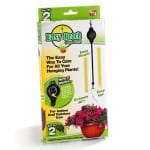 Height is a really helpful and desired attribute for most people, but for those of us who aren't vertically blessed, there's Easy Reach for hanging plants.
Step ladders or other aids in reaching your high-hanging plants might be of great help to those who do not have the ability to reach them on their own, and the makers of Easy Reach hope to find a place in many homes.
Overview
Many manufacturers have produced products that will help those people that are not blessed with good height, especially older folks who shouldn't be overextending themselves due to health concerns. More and more products like these will be hitting the market, as more and more baby boomers start living alone and want to retain their independence as long as possible.
The Hype
If you are an absolute green thumb or just a person who would like to add more beauty in and around the home, then the Easy Reach will be of great help to you. Who would not want more plants in their home? They give off oxygen and fresh air that we can breathe in. They make your home pleasing to the eyes and nose, unless of course if you are allergic to it.
Some types of plants that can make your home welcoming are hanging plants, but they are obviously put in higher places so they will not get in the way. But they dry up more easily and quickly compared to other plants since it is placed higher up. So it seems you need to water it more often than the other plants.
How do you do that? You need to take the plants down and put them back up again. Not very easy! Especially on a regular basis. Sometimes it may seem like hanging plants are more trouble than they're worth. But if you use the Easy Reach Plant Pulley, you will no longer have to think this way and you will know how easy it is to care for such beautiful plants.
The Cost
If you're in need of an Easy Reach system you knew this was the fix the moment you saw it. However, if you don't have any hanging plants, it's probably a hard sell to get you to start hanging them in order to justify the purchase. But at such a low cost of just $8 for two of them, there's definitely no reason to grab a set and put them to use. Reviews are mixed, so it may not work for your situation, but at $8 it's only a small risk.
The Commitment
If you're already into having plants around the home, the Easy Reach only requires a small commitment of installing it once. Once it's up there, you shouldn't have to take the unit down unless it breaks. It should also reduce the amount of time that it takes you to water and care for your plants, bringing the commitment factor down to zero, and raising the convenience factor.
Evaluation
With Easy Reach Plant Pulley now available, watering and caring for plants, especially those high hanging plants, is a really easy task. You no longer have to struggle with hoses and you no longer have to lift heavy watering cans or sprinklers while standing on dangerous step stools or any kinds of things you need to step on just to reach a certain plant.
It is indeed just the thing for you and your plants. With this you can bring down and lift up your plants with an easy and gentle pull. So whenever it is already time again to water your plants, all you have to do is to pull it down and simply water it as if it were an ordinary plant. You will have no worries in keeping it below and within your reach while you are watering it since Easy Reach can hold it firmly in its place.
Final Easy Reach Review
With mixed reviews this product is something of a gamble, but with its low price, it's one we say you can safely bet on. Some users have said that they have had theirs for months with no complaints, while other have bemoaned the fact that the pulley system doesn't work at all, and that the product is a joke. With far-reaching feedback like this it is impossible to tell what will happen in your own home.
Our Recommendation
At the attractive price of $8 for a set of two, ordered from Amazon so you don't have to fuss with the official website, you can have these delivered to your door and hanging your plants in a short time. Only then will you know without a doubt whether or not it works for you. With products like these half the fun is getting to try them out and seeing if they actually work. If they do, fantastic, if not, it's an $8 lesson.
What do you think? Does Easy Reach work or not?