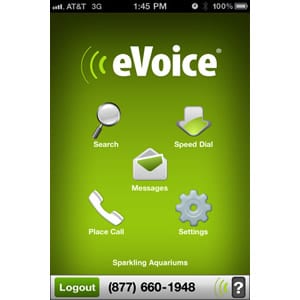 eVoice provides a virtual phone number for your business, and says that they can give you the professional look that you need. Virtual phone numbers are ones that customers can call, and are presented with options just like a big corporation. They can press one to be taken to a specific department, press two to go to another department, and the whole time it could just be a one-man show. But does this actually work at creating the appearance of professionalism, or can you avoid it altogether?
Overview
Virtual phone numbers are nothing new, and have been around for several years. The problem is that many of these companies go out of business at some point, and they end up canceling all of the services in the process. eVoice has been around for some over a decade now, and most likely will end up getting bought out by one of the big telecommunications firms in the future, the way GrandCentral was bought by Google and turned into Google Voice.
The Claim
eVoice claims to be a radically different phone number. They say all sound more professional with their prerecorded greetings, or you can upgrade and have a live person answer your calls just like a receptionist. They say you can work from anywhere because you can have your calls forwarded to any phone that you choose. They say that you can read your voicemails because they automatically transcribed them so you don't have to spend time listening to messages in order to get the relevant information.
They also say that you can establish your business's presence with a local phone number. This is great for frequent travelers, because you can have a local number forwarded to your mobile and receive calls while you're out and about, with a collar thinking they are speaking to you locally.
The Alternative
When it comes to establishing phone service for your business, there are only so many different ways you can go. Having a dedicated phone number instead of a virtual phone number will be more expensive and likely won't provide as many features as this does. You can try getting by with just your personal cell phone number, but it won't be too long before this paints an amateur picture of your business, and you don't want to mix your business life with your personal life.
The Cost
Regardless of which plan you go with there are no contracts, it's almost a month, and there's no cancellation fees. They have a six month free trial going on right now for their basic plan is $12.95 per month after the first six months. Actually, the free trial only goes as long as 1000 minutes, or 60 transcriptions of your voicemails, whichever comes first. This could end up being much shorter than six months if you end up using it on a regular basis.
The Commitment
Since there are no contracts, your really under no commitment to staying on with this for the long term. You can try it out, see if it is beneficial to your business, and keep it if it helps you. It does take a little bit to set everything up the way you want it, so you have to stay with it until everything is functioning how you imagined it would.
Evaluation
Google Voice is probably the biggest competitor to using something like eVoice. Google Voice is free to use and provides many of the same functions. Where eVoice excels is creating a businesslike persona which can really help when you're just starting out. Presenting a professional face to your organization is vital, and can't really be replicated using something that's meant for individual use like Google Voice.
We like that you can set things up with either a local number, or a toll-free number. We also like that they don't charge you too much per minute, it's currently at 5.9 cents per minute once you go over your allotted minutes. You can get that down to 3.9 cents per minute on their biggest monthly plan.
Here are the things we like about eVoice: Their auto attendant really gives it that professional feeling when a customer calls, you can get a local number so people feel more comfortable doing business with you, you can have a conference call, it has apps that work with iPhones, Androids, and Blackberries, you can forward your calls to any number.
You can also have different extensions, making your organization seem well-structured. You can screen calls, transfer calls, block calls, and even let people listen to music while they're on hold. Very professional stuff.
Final eVoice Review
For the price, eVoice definitely comes through for small business owners wanting to look big, or at least medium sized. They provide a good service, and we couldn't find any major complaints from disgruntled former users. In a world where we want value for the dollar, this is one service that won't do you wrong, and gets our thumbs up.
Our Recommendation
It can't hurt to get started on the six month free trial with eVoice, especially if you've been looking for a solution to your phone number for your business. You can get a local number, set up a professional greeting, have the calls forwarded to different phone lines, and just have the whole phone situation organized in general. If you don't like it, you can always change to a different provider, although it could be a hassle to change your phone number on your letterhead, business cards, and website.
What do you think? Does eVoice work or not?