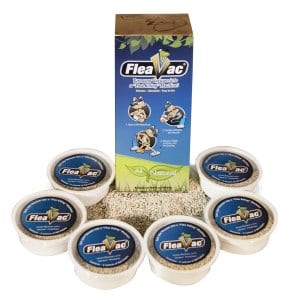 Flea Vac is a combination of pellets that go in your vacuum, and a vacuum attachment that can be used to suck up fleas off your pet and other places around your home. It is pitched as an alternative to using flea medication and pesticides, so let's see how well it performs.
Overview
When it comes to flea control with your pets you want to make sure that the problem is eradicated because even a few flees can cause discomfort and can quickly turn into a bigger problem. Today's flea medications are proven effective and many pet owners opt for them, but if you'd rather treat your pet in a more natural and chemical-free manner it's worth looking into a product like this one.
The Claim
The makers of the Flea Vac say that the first step is adding the pellets to your vacuum. This ensures that fleas that get sucked up into your vacuum are killed and are not left to escape and re infest your home or pet. They also say that the second step is adding their attachment so that you can go around your home and suck up fleas where you suspect they're hiding, including on your pet. They say that the attachment is made so that it provides max suction without harming your pet or your vacuum.
The Hype
Pet owners get fanatical about their pets, so it doesn't take much to get them into a frenzy about a new way of dealing with fleas. While the idea might sound silly at first, vacuuming your dog for fleas has a lot going for it when compared to other flea removal options, or compared to doing nothing.
The Cost
Flea Vac is listed at $20 but shipping information was not available at the time we tried to order. The kit is supposed to include what they refer to as "pucks" which are just canisters of the pellets that need to be sucked into the vacuum so they can do their job, as well as the vacuum attachment. They refer to a year-round protection program, and we were unable to find details on that, but are assuming it involves getting regular shipments of their pucks so that you don't run out and can keep the fleas gone.
The Commitment
This seems like it won't take up too much of your time, since most of it involves things you'd do anyway, namely vacuuming. Only with this added to your vacuum you're adding flea killing power. You might have to get used to the idea of vacuuming your dog, and they might have to get used to that idea too, especially if they're afraid of the vacuum when it starts up. Once they realize they're being groomed they'll either lighten up or hate it even more depending on how your dog feels about grooming.
Evaluation
The Flea Vac system is using Bentonite clay in order to kill the fleas and still be relatively safe for use around the home. They do point out that their warning label lists it as being low toxic, not non-toxic, and they say that you should drink water if you ingest some of it, in order to dilute it and make it completely safe. Bentonite clay is often used in detoxing programs and baths because it is said to be able to draw out toxins. It is used in a flea killing capacity because of its similarity to diatomaceous earth. It's shaped in a way that kills fleas by breaking up their exoskeleton.
They say that after 24 hours all fleas were confirmed dead, but that is enough time for them to potentially escape from your vacuum. You may want to vacuum up a few days in a row to make sure that you collect any escapees.
Final Flea Vac Review
Flea Vac is getting our Solid Try rating because it seems to be providing a viable alternative to other flea killing methods. If you're against using a monthly flea medication on your pets this may be a more natural way to go. It may also be something that you could use in conjunction with other natural flea treatments as part of a comprehensive approach to a flea-free home.
Our Recommendation
Getting rid of fleas is often priority one for a pet owner, and if you've decided not to go the route of Frontline or other flea medications, you're going to have to try products like this one and see which ones work to provide free-free living for your pet and family. You may find out that it does the job all by itself, or that it does a good job of reducing the flea population and that with a little help the job is completely done.
What do you think? Does the Flea Vac work or not?