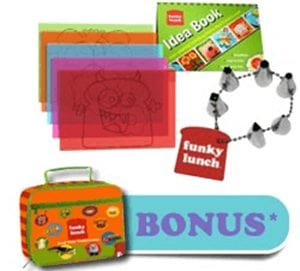 Now that the kids are settling into the back to school routine chances are you are worried about their lunch time nutrition. You might find the Funky Lunch kit to be a real problem solver in getting the kids to eat those packed lunches you put so much effort into making.
Overview
Kids love eating foods that are fun and when they are they can be nutritious too and the kids won't mind. The Funky Lunch product originated in England and it has become a favorite of both parents and kids alike. It simply is a set of templates that help you design nutritious food in such a way that the kids actually look forward to their packed school time lunches.
The Claim
The company simply claims that the big attraction is turning foods likes important nutritious vegetables into something fun to eat simply because of the creativity in their designs. They say it turns food time into an adventure.
The Hype
The marketing material really focuses on how school lunches can be boring and how with a few simple steps a simple sandwich can be turned into something exciting and appealing. The kids get so caught up on the designs that they tend to forget what the food actually consists of.
The Cost
For about $25. you are really going to be receiving quite a lot. You will get the 5 sandwich character templates, design tool and the design book to help you with your creativity.If you approx. $8. to your order you will also get the lunch box too.
The Commitment
It may take you a few extra moments to make the lunches but it will be well worth it if the kids are going to consume what you are making. Besides we bet you will find it fun to come up with some designs of your own. Plus, no doubt the kids are going to want to participate in the lunch making process so this is going to add to the fun as well.
Evaluation
Kids can be picky eaters, and lets face it after a few days of eating packed lunches food can get really boring. If the Funky Lunch can spur the kids into eating what is made for them it takes the worry out of whether they are getting enough lunch time nutrition. Not to mention cuts down on the waste of food. It is bound to make packing the lunches a whole lot easier because you won't have to keep coming up with new ideas of food choices just to remove the boredom.
Final Funky Lunch Review
We are going to give the Funky Lunch a Thumbs Up review. It is a simple product and affordable. Although it may not solve all of your issues of getting your kids to eat, it will certainly help. Although we have focused on it being ideal for school lunches there is nothing stopping you from using it for your pre-schoolers or at other food serving times as well.
Our Recommendation
There is no doubt that kids love to help with food preparation. We have talked about other products that encourage this like the Press Dough which seems to be a hit with the kids and parents too. If you like the idea of Funky Lunch and would like to check out some similar ideas then you can take a look at Cutezcute. This happens to be a best seller at Amazon, and has some great reviews.
What do you think? Does Funky Lunch work or not?
[kkstarratings_custom_footer]