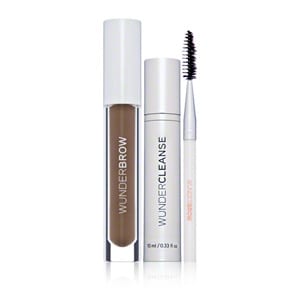 Wunder Brow is a system of doing your eyebrows that says it only takes one step and looks natural. If your eyebrows are often a source of trouble, you no doubt want to know whether or not this can really work.
Overview
Even though they contribute to the look of your entire face, eyebrows can be that make or break difference between looking good and looking not so good. It can be hard when you've got eyebrows that just don't want to grow in easily, or that don't take the shape that you'd like them to.
The Claim
The major claim by those behind the Wunder Brow is that you'll be able to get natural-looking eyebrows in just one step, without having to fuss with them the way you do now. They also say that it won't transfer to other surfaces, or rub off once it's applied. They say that it's waterproof and lasts for days so you don't have to apply it every day. They say you don't have to use eyebrow pencils, powders, or stencils anymore, and that there are four colors to choose from so that you can match it up with your hair and appearance.
They say the reason it works is by something they call "Permafix Technology" which is supposed to involve hairlike particles that grab onto your actual eyebrows and stay put.
The Hype
The eyebrows are often overlooked by many women, unless it's time to get them waxed or shaped. Unless you have an ongoing problem with your eyebrows, then they become a thorn in your side and you'd do anything to get them to look the way you want them. For some this can cause a strong desire for a solution, and may lead to an impulse purchase in hopes that this is it.
The Cost
They sell this on a trial offer basis, and here's how it works: You pay $29 to have the first one shipped to you in the shade you want. If you like it and want more they'll send you another one 30 days later that will last you for 2 months, and then they'll start auto-shipping you a two month supply every 60 days. The price stays the same, but you're getting twice as much. They also include free gifts with your purchase, so you're getting a total of three items with your order.
It's confusing as to why they would charge you so much for a trial offer, but they do have a guarantee in place so that you can cancel within that 30 day window and get your money back. In order to cancel your automatic shipments there is a toll free number to call, so you can't do it yourself through their website, and will likely get pitched to stay on when you try to cancel.
The Commitment
Since this is supposed to go on easy and last for days, you aren't having to do too much to use this.
Evaluation
Wunder Brow gets mixed reviews from users, and for this price we'd expect to see something that was a little more unanimous. If they are being sincere that you really are getting a discounted price, then an eyebrow product that costs $30 a month to use should give you the eybrows you want, and we'd see a big slant toward it working, instead of some people saying it helped, and others saying it didn't make a difference.
The one quality about eyebrows is that they have to look just right in order to pull off your look. There is little room for error. There are a lot of claims being made about this product, which means there is the likelihood that it won't be able to live up to all of them.
Final Wunder Brow Review
Wunder Brow is getting our Risky Try rating. The mixed feedback it has received, coupled with the forced auto-ship enrollment means double trouble for the consumer. There's about a 50/50 chance that you'll like it, which means half of the people are going to have to remember to call in and get details on the return process for their money back guarantee. It also means that even if it does work and you don't want to return it, but you don't want to receive more of it automatically, you'll still have to call and cancel your auto-shipments.
Our Recommendation
At the end of the day it's a coin flip, and it's up to you whether you want to try this out and see how it works for your eyebrows or not. Just remember to mark your calendar and call in before your 30 days is up if you need to return it of if you don't want to receive your next shipment and be billed for it as well.
What do you think? Does Wunder Brow work or not?