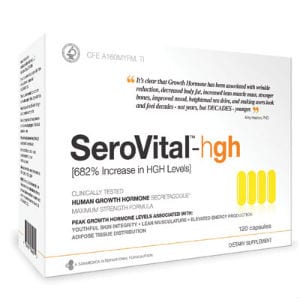 Serovital says that it's a way to naturally increase the levels of Human Growth Hormone (HGH) in your body. If you're considering taking an HGH increasing product, you'll want to know whether or not this one works, and is worth the price tag.
Overview
The use of Human Growth Hormone has a lot o controversy surrounding it, and there is a lot of debate as to what it can do for the body, and what it can't. Proponents call it a wonderhormone capable of all sorts of things including anti-aging, fat loss, and muscle growth. The reason this is believable is from athletes that have been experimenting with it for years. The reason you'll need to be extra careful when evaluating these kinds of products is because many of them make exaggerated claims and don't back it up with proof.
The Claim
The makers of Serovital say that there is an average increase of HGH levels of 682%, and for proof that are using a clinical trial that involved 16 subjects. Many of the other claims they make are in regards to HGH itself, such as the ability to help you lose weight, anti-aging benefits, enhanced mood, stronger bones, an increased sexual drive, and energy to spare. This is often done by manufacturers of health products, they'll talk about the general benefits of a certain substance, without actually making the claims in regards to their product. So in this case HGH is supposed to do all of those things, and since their product is supposed to increase HGH levels the assumption is these are the benefits you should see.
The Hype
Human Growth Hormoones make the news quite a bit, usually surrounding professional athletes and doping scandals. It's a way for them to get a performance advantage over the competition. So we know that there are drugs out there that can cause a growth in HGH, the big question is whether or not there is anything that it available to the average consumer that does the job. All it takes is a few big name stars to get people interested in trying it.
The Cost
If you agree to be automatically billed each month they'll send you a bottle of Serovital for $100, with shipping at $7. They try to rationalize the cost by comparing it to HGH injections, which are far more effective. In order to do that though they would have to prove that their product is just as effective. They say you're saving $26 to have it automatically shipped, and we couldn't find an option allowing you to buy it without agreeing to the auto-bill. We also couldn't find any details regarding their money back guarantee, even though they have a seal promising one.
The Commitment
Since this is in pill form your only real commitment is to take them as directed. How long you stay on it is up to you. The results aren't permanent, so if you want to keep seeing them – if they exist – then you'd have to stay on this for the duration. That might be more than most people are willing to go along with, especially when there are studies on the effects of increased levels of HGH in the body, and it isn't pretty.
Evaluation
If a 16 person trial is enough proof for you, then Serovital seems to be a good product to go with. We actually like to see larger numbers in a sample size to get a real idea of whether it's working, minimum 100. It would also be nice if they ran multiple tests to see if they got the same results or if there was a variation between different groups tested. While it may be exciting for them to see such promise form one small test, we're talking about releasing this to the general public, so the first thousand people or so are essentially guinea pigs for a largely untested product.
In regards to the price, there is a method used by some companies to price their product at a higher point in order to add to perceived value. The thought is that if it is so expensive it must contain premium ingredients, or it must work or people wouldn't be willing to spend this much money. In this case they're trying to get away with a higher price by saying you'd pay more for HGH injections. But this is not an apples to apples comparison, because it has not been proven that their product provides the same sort of results that injections provide.
Final Serovital Review
Serovital is getting our Risky Try rating, since there simply isn't enough data to prove that it works, and with such a high price point you're taking a lot of risk to try it out.
Our Recommendation
HGH supplements are all the rage right now, so it's easy to see why several companies are jumping on board to try to capitalize on it. But it's better to break things down to the specific benefit you want and take supplements that are more proven for each benefit. For example, if you want to lose weight, there are several products to help you do that. If you want to build lean muscle there are several more products just deigned to help with that. Each thing that HGH can supposedly do, there are other supplements that can do it and have been peer evaluated and around for several years.
What do you think? Does Serovital work or not?