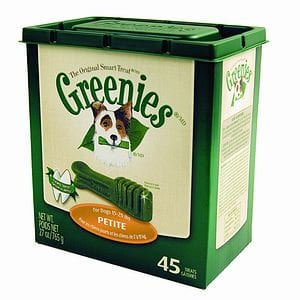 Greenies says they are the number one dog treat recommended by veterinarians. They feature a unique design that they claim helps clean your dog's teeth and gums while they eat them, but also tastes great. Since you really can't get your pet's honest opinion other than watching how fast they eat it, and if they do so with gusto, it's hard to tell if they are really working. So we checked out what real owners are saying about how their pets like them, and how clean their mouths were afterwards.
Overview
It's a lot of fun to give your dog a treat, especially for good behavior, or just because. Watching them enjoying the treat you give them can be a pleasurable moment for you, as they get lost in the sensation of having something different from their normal food and water. When a treat serves the double purpose of cleaning their teeth and gums, it seems to be a win-win situation for everyone. But some owners wonder if treats like these can serve as a substitute for dental cleanings at the vet's office.
The Claim
The makers of Greenies claim that they have designed the shape of their treats for a specific purpose: cleaning your pet's mouth. For dogs, on one end of the treat is what appears to be a brush. On the other end, it looks like a bone. They say that these are designed this way so there are special breakpoints so your dog doesn't end up eating the whole tree at once, presenting a choking hazard. The cat treats are smaller in size, basically almost bite-size, but are supposed to have the same teeth cleaning properties.
The Hype
Pet owners will do anything for their pets so that they can have a better existence, and a better time here on earth. This means that any product that has the dual benefit of tasting good for the pet, and keeping the teeth clean so that the owner doesn't have to break out that specially designated toothbrush and go to town on those teeth, is going to get a lot of attention. Also, anytime something states that it is recommended by veterinarians, you have to take a step back and see if that's actually the case or not.
The Cost
One of the great thing about Greenies is they don't cost a fortune. You can get a pack of 94 dog treats for $20. This is nice because you don't have to sit there and weigh the pros and cons of giving your pet a treat wondering whether or not you can justify the expense. At roughly 20 cents per treat, any time your dog does something that is treat worthy you should give them one without flinching at how much it's costing you.
The Commitment
A lot of owners are going to view this as a way to prolong a trip to the veterinarian for a dental cleaning for their pet. It can be hard to take your pet in to have their teeth cleaned because you know it is not a very pleasant experience for them, but is something that is necessary. It can also be hard for you too, because it is not exactly the cheapest procedure they offer at the pet clinic. However, these are still a great way to help keep their teeth clean between visits, and should lessen the amount of times you need to brush their teeth for them.
Evaluation
You just can't argue with the sort of positive reviews that Greenies get from satisfied owners. The important thing to remember here is that pet owners are notorious for being harsh critics. Not only do they have to like the product, but their pet has to like it as well. With so many different dog and cat breeds, and so many different personalities, there is a big chance that a pet product will get mixed reviews at best. When you see something like this that has almost unanimous approval, you know you're on to something good.
At this price point, it's something that you can buy with confidence knowing your pet is at least going to like them. And if they end up loving them you can buy them again.
Final Greenies Review
We're giving Greenies our Thumbs Up review, and highly recommend them for your pet. This is a company that recognized the need to reward your dog or cat with a treat, and also keep their mouth and teeth cleaned. It's funny to think that a lot of research and development went into pet treats like these, but when you stop and think about it, and inspect the treat yourself, you can see that it isn't just a bunch of hot air. The grooves and the design that are in the dog treats really do appear as if they help scrape the plaque and clean the gum line.
Our Recommendation
Definitely grab these for your pet. Often as owners we are tempted to give our pets people food as a way to reward them for good behavior, or just because we're tired of seeing them beg for the food that we are eating. This makes a great substitute for when your pet starts to beg. You can swap out what you are eating with one of these treats and they are none the wiser, unless you have a rather smart animal on your hands, or are really bad at making the swap.
What do you think? Does Greenies work or not?