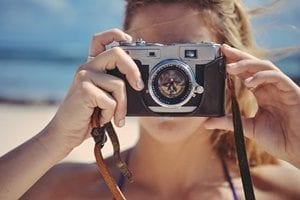 Most everyone is into picture taking these days thanks to all the mobile devices that make this super easy. Once taken they usually are stored on the device. With there being so many of them chances are a lot of them get forgotten about. On occasion one may share a picture or two when in a conversation, or perhaps send one through email. While picture taking like this is a real convenience perhaps the true meaning of the use of the pictures has been forgotten. That is until Groovebook came along.
Overview
Groovebook is a company where an individual can send their pictures to. The company will then compile the pictures into what they call a Groovebook and send this to the client. Very similar to the way photo albums used to be used on a regular basis to store all those precious pictures. The book is 4×6.
The Claim
The claim that Groovebook is making is that their way of storing the pictures into albums is saving you time and money. They do all the work for you and all you have to do is wait for it to arrive in the mail.
The Hype
The hype about Groovebook other than them doing the work for you is that your pictures are going to be preserved in a hard copy. Mobile devices are known to breakdown and some people have lost a lot of their pictures that were important to them.
The Cost
The use of Groovebook comes with a monthly fee. At the cost of $3.99. Allowing a client to upload between forty to hundred pictures for their Groovebook.
The Commitment
The commitment really comes down to simply sending the pictures to Groovebook to compile the book. Some like to do this by picture category. Others do it as a gift.
Evaluation
It would seem that when Groovebook first started out that it impressed people. The owners took it to Shark Tank with the hopes of expanding their business. It was well received and became part of Shutterfly Inc. Now many are complaining that the company is just not what it used to be. There are many complaints such as some people never receiving their books, and poor customer service. On Site Jabber this company is only receiving an average of twostars for service, shipping, returns, quality and a 2.5 star for value. This is out of 269 reviews. Not a very good track record.
Final Groovebook Review
We are going to give Groovebook a very weak try/buy. There is not enough positive feedback to take it any higher than this.
Our Recommendation
It still goes without saying that a hard copy of your favorite photos should be preserved. To help you keep them really organized you may want to take a look at Photo Chest.
What do you think? Does Groovebook work or not?