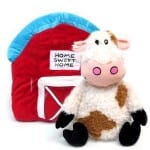 One of the things that kids have become fond of is stuffed animals. These toys can be very appealing to kids and as parents you cannot help but give them to your child. Happy Nappers is hoping to corner the market by making a hybrid pillow and stuffed animal all in one, and promoting it as a revolutionary breakthrough. But will your kid really love it?
Overview
What makes it very cute is that during the day they can be animals, and at night they can be pillows that are very comfortable to sleep on. How does this happen? Well, there is an opening at a specific part of the stuffed toy and if you wish to form it into a pillow, you just open the zipper and put the animal inside it. The pillow looks like the house of the animal.
For example, if the animal is a dragon; the pillow will be a castle. Aside from that, kids can also press a "doorbell" on the pillow and they will hear a cute sound. The sound will "awake" the animal. The product comes with six different animals to choose from: a cow, dragon, penguin, dog, ladybug and unicorn.
The Claim
Happy Nappers are adorable, stuffed animals that kids will surely love. The claim of this product is that it will give your child a very wonderful toy and a very relaxing sleep all at the same time. It is as if you are giving your child a cute friend. The toy teaches them that there are times that they have to be separated with their "friend" because they have to sleep and their "friend" has to go home and sleep too.
Aside from this, the makers of the toy also assure that the animal/pillow will give the child a sense of security. Moreover, parents are also assured that the money they will spend will not be in vain because the toy measures a full 21 inches.
The Hype
Parents who have bought the product for their kids have shared their experiences with friends who have children as well. As testimonials of the product spread, many others have bought it too. Apparently, children loved it and they also slept better upon having converting it into a pillow.
The internet has become an indispensable medium of advertisement for this product. Web banners served as effective advertisements and have been proven to bring about a remarkable profit for the manufacturers.
Their ad is so campy, it's cute, and a little heart-warming:

The Cost
Happy Nappers cost $20 excluding the shipping fee. The great deal behind this is that the customer is given a 30-day money back guarantee. With that, the parents will have an assurance that they can return the product if there are any problems upon receiving it.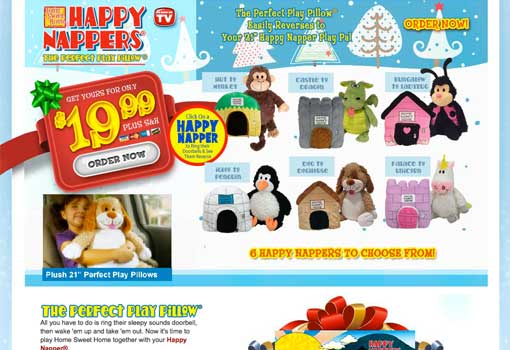 Features and Functions
When it arrives you'll be less likely to have a problem about the toy since it is made out of quality materials. The zipper is very secure and unlikely to break. The batteries for the doorbell feature are also included so you won't need to make a special trip to the store.
One of its features is the animals have their own distinct sound so that it will be quite realistic. Aside from that, the child is also given a very comfortable pillow so that they can sleep soundly. The toy is made up of very soft materials and you do not have to worry that your child will hurt themselves while they are sleeping. Lastly, the toy comes in different colors and animals so you can pick the one you think they'd like best.
Evaluation
The Happy Nappres seem to excel at making kids happy. They can help you establish a routine by getting them excited about taking a nap or sleeping since they know that they can play again with their favorite animal when they wake up. All in all, the child will absolutely love the toy and you can feel those warm feelings of making a good purchase decision as a parent.
Final Happy Nappers Review
Parents will definitely not regret buying this product. Be assured that you will not be wasting your money should you decide to give this toy to your child. You need not worry if you feel dissatisfied with Happy Nappres as you are free to send it back and have your money back minus the shipping fee.
It isn't very often that a child's toy comes with a money-back guarantee, but they've really stumbled onto something here, and it can become your child's favorite thing if you present it to them in the right way. If nap time is a chore, this could be the trick that gets them to switch modes and take their much-needed nap.
Our Recommendation
Knowing the wonders this product can give to you and your children, it would be best if you ask your child first what animal they would like to have so that you will not leave them disappointed upon receiving your gift. Thus, you will be giving the stuffed animal they really love. Aside from that, this will also save you time and energy.
What do you think? Does the Happy Nappers work or not?