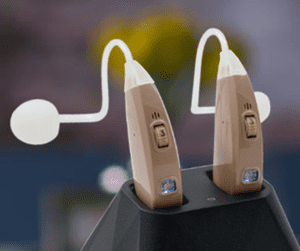 Nothing is more frustrating then when a person cannot hear properly. In the beginning they may not even realize that they are having difficulty with this. A lot of people with this problem think its because others are not talking to them loudly enough. This is a problem that needs a solution. That solution may be Hearing Assist.
Overview
There are two choices when it comes to the Hearing Assist, which is really referred to as the Hearing Assist Recharge because this device is fully re-chargeable. The two choice are BTE and ITE models. The BTE is behind the ear. The ITE is in the ear.
The Claim
Hearing Assist claims they set out to discover a way to bring the costs of hearing devices down. Which they claim the average cost for a quality hearing aid can range between $2,000 to $6,000 for a pair.
The Hype
The hype for Hearing Assist revolves around the price and also the fact that they are fully rechargeable. Which eliminates the hassle of having to use new batteries all the time.
The Cost
Right now there is a limited offer being presented for a pair of the Hearing Assist. It is for the price of $499.98 which is $200. cheaper than the regular price. The company is also indicating that they have payment plans available.
The Commitment
Not much of a commitment when it comes to Hearing Assist. The biggest decision will be whether one wants the BTE or the ITE model. Everyone will have their own preference. But either model delivers the same quality as well as the same features. The BTE are available in difficult colors and have been made for great appearance, comfort and convenience.
Evaluation
The Hearing Assist has been designed for those who have mild to moderate hearing lost. It is FDA registered. For those that don't have insurance coverage to cover the high priced hearing aids then Hearing Assist may be a great alternative. People that have difficulty hearing miss out on so much in life. Hearing Assist can be programmed for different settings. Which is comprised of quiet, noisy, TV and outdoor.
Final Hearing Assist Review
It is okay to rely on reviews for Hearing Assist, but keep in mind that when it comes to hearing everyone is an individual. Which means each person is going to get different results. We are prepared to give the Hearing Assist a thumbs up. Encouraging those that do buy Hearing Assist to take advantage of the guarantee if they are not satisfied with the product.
Our Recommendation
Whenever we are introducing a product we also like to give alternatives for comparison purposes. In this case the alternative is New Ear BTE.
What do you think? Does Hearing Assist work or not?