Heartburn No More is a 5-step system for those who are looking for a more holistic approach to cure acid reflux and heartburn permanently. Not only does it tackle those two problems, but also claims to alleviate any digestive problems you may be suffering from.
Jeff Martin, the creator of Heartburn No More was also a former victim of acid reflux. If you buy into the backstory it took him roughly 11 years of medical experimentation to develop such a method. We had to look into this ourselves to see if the product actually lives up to all of its promises.
Overview
Acid reflux is pretty much a universal health issue where the acid used to help digest food in your stomach rises into the esophagus, which in turn can cause major heartburn. It can be quite painful and cause incredible discomfort for most. This condition can occur as early as infancy, but is most commonly seen in adults. The development of other serious health issues may arise due to acid reflux, such as asthma, dysphagia, regurgitation, and dental erosion.
The Claim
After years of tests, Heartburn No More assures customers that they can perpetually get rid of acid reflux in only 2 days, and begin to notice improvements in as little as 2 hours. They claim you can say goodbye to chest pain, continuous burping, sleepless nights, expensive prescription medication, and say hello to overall good health. Heartburn No More even claims that you can eliminate the risk of high blood pressure and cancer from oral treatments.
The Cost
Heartburn No More can be purchased and downloaded straight from the net for only $40, and that is because the system is a set of ebooks, which eliminates printing costs. They say the price is going to jump to $197, but we find this hard to believe, and many products like this try to create a sense of urgency that is usually just hot air.
The Commitment
Reading a 150 page ebook doesn't require a ton of effort, however you do have to be quite determined to finish Heartburn No More. Skipping through pages and topics won't provide you with all the information you need to successfully complete the program and eliminate acid reflux. Reading the eBook from cover to cover is the only way to see great results. It will give you a solid grounding on how you're getting it, what doesn't work, and what to do to stop it.
Once you're done reading Heartburn No More, you will have to follow through with what was suggested in the ebook, whether it be a drastic diet change or an overall lifestyle change. This may entail you to exert a bit of effort on your end, as it's never easy to break old habits and start new ones.
Evaluation
Other than the eBook itself, you will also be receiving additional, complimentary related ebooks to help you through your journey of getting rid of acid reflux and heartburn. Ebooks usually come with their fair share of bonuses to sweeten the deal, but in the case of Heartburn No More, these actually seem pretty valuable, and are very relevant to the problem at hand.
One thing that we like about package is you are given the opportunity to schedule in a few one-on-one meetings with Jeff Martin himself. Jeff Martin is said to be a certified nutritionist and medical researcher, so getting a few private counselling sessions with him can benefit you greatly. This free interaction with Jeff is only good for 3 months, however that's plenty of time to get all the answers to your questions from a professional standpoint. Contact is made via email and you can send as many emails as you want.
One problem consumers had with Heartburn No More was how extremely detailed the eBook was. There's no denying that 150 pages is a lot of reading, and a number of consumers lost interest before even completing it. The other setback is that it apparently isn't effective within 2 days, like it says it is. Most consumers found that it took a week before they noticed real results.
For those who still have the tendency to doubt the effectiveness of Heartburn No More, there is a 2 months, no questions asked money-back guarantee. Take the 2 months to read through all 150 pages of it and if it doesn't work for you, you can return it and receive your money back without a hassle. There's really nothing to lose, and potentially a lot to gain and a new heartburn-free life.
Final Heartburn No More Review
Heartburn No More has proven to be an effective method for eliminating acid reflux. The reason why the product is recommended is because it's a natural alternative to healing a specific health condition. There are no side effects, so you have nothing to lose except acid reflux. Going the pharmaceutical route opens you up to a lot of half-tested, potentially dangerous drugs that get approved by the FDA but then later recalled when people have problems with it.
Our Recommendation
Heartburn No More seems to be worth the money. $40 is definitely worth the fix, and even if it falls short of completely eliminating your heartburn, if it drastically reduces the discomfort without the use of drugs and medications, it's a success. Just be sure to read all of the information and put it to use, because as Leo Buscaglia says, "To know and not to do is not to know."
Official Website: Heartburn No More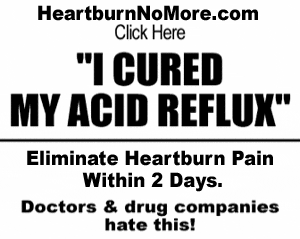 What do you think? Does Heartburn No More work or not?