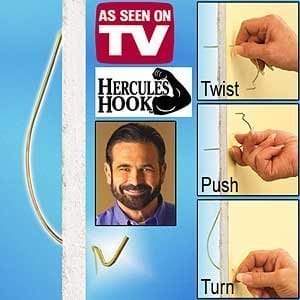 Hercules Hooks are a way to hang just about anything easily, quickly, and without using any tools. It's got pitchman Billy Mays backing it, so of course it looks like a great invention, but can you really use it to hang things in your home? We looked into this to see what all the fuss is about, and see if it's something you should buy or not.
Overview
The reason there are so many products trying to help you hang stuff on your walls is because before now there hasn't really been a good way to get the job done. The old hammer and nails doesn't quite cut it, and can leave monstrous holes in the wall when you're done. Other wannabe solutions end up coming undone, smashing your picture frame or causing damage to items you've placed on shelves. There's been a lot of attempts at fixing this, including stick gum, hooks that use adhesive to stick, hooks that use suction cups to stick. All of them come with a drawback of some kind.
The Claim
The claim made by Hercules Hooks is that it can hold up to 150 pounds of weight, and it installs without the use of any tools, or any great struggle. They also say that it only leaves behind a pinhole, so you won't be ruining your walls in the process. And if that wasn't enough they say that if it doesn't work for you the way you expected it to, you can return them within 30 days. Seems like some pretty bold claims for a simple product, so lets see how it lives up to them.
The Hype
Putting Billy Mays on your product is all the hype it needs. The guy had a knack for taking even the most mundane products and making them gotta have items. The good thing is that he usually got it right. He's got a few duds on his resume, but most of the products he endorsed are actually well reviewed by users, and Hercules Hooks is one of them.
The Cost
As you'd expect, the cost of Hercules Hooks is not very big. You can get a pack of 20 for $15 plus shipping. A pack of 20 should be enough to handle most of the hanging needs in your home, so not a bad offer. And remember this is a one-off purchase, they don't try to enroll you in some silly auto-ship monthly Hercules Hooks membership or whatnot.
The Commitment
These should actually increase your quality of life, as you won't have to fuss too much to get them hung up, and you won't have to fret about them falling off while you're sleeping.
Evaluation
Hercules Hooks could only do one of two things: succeed triumphantly or fail miserably. In this case they are a success, and they work as depicted on any drywalled areas you have in your home. There are a few things to keep in mind when using these. The first is that there may be something behind your wall that will prevent you from turning the hook to get it in place. It could be a stud or some other obstruction. You might be able to just move the hook over a few inches if this is the case.
Another thing that users have noticed is that if you hang something really heavy on it the hook will sag into the drywall, leaving a bigger hold than what is depicted in the infomercial. To prevent this from happening simply use more than one hook on these larger items, so that you distribute the weight more easily.
If you keep these tips in mind you'll no doubt have an easy time with your new best friend, and you'll have your place finally looking the way you really want it to with all of your decorations, family portraits, mirrors, paintings, shelves, and anything else that can be hung. The feedback on these is solid, and the few naysayers likely ran into the problems we presented – and solved – above.
Final Hercules Hooks Review
Hercules Hooks is getting the Thumbs Up review from us, as it's one of those products that has a simple, yet foolproof design. We like that these are easy to use, and don't involve a lot of complicated parts that could end up breaking. A quick jab and a twist and it's in, and you're all set to hang whatever you want. It may sound kind of corny, but it's actually therapeutic to have this one thing work, in a world where things don't always work the way you want them to.
And you'll be surprised at how much stuff you'll feel like hanging, now that you've got such a secure and easy way to hang them. It's like your mind was repressed because you needed a solution to your hanging problem, and now you can let it run wild.
Our Recommendation
We recommend picking up a pack of these to take care of any immediate projects you may have in mind, but also just to have handy in case something comes up. You never know what will catch your eye the next time you go shopping and know that you have your Hercules Hooks at home. A quick pass down the home decor aisle and this could be the start of a new interior makeover. Don't say we didn't warn you.

What do you think? Do Hercules Hooks work or not?