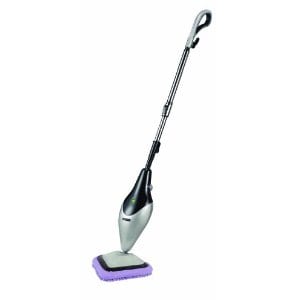 The Bionaire Steam Mop is one of the first forays of the Bionaire company into the floor cleaning market. They basically took a map and added steam functionality to it. But they may have forgotten that this is an ultra competitive market, and there are already some well-established brands and products to contend with. We took a detailed look at their offering and are here to report on whether this is a smart buy or not.
Overview
When making the move to a steam cleaner for your floors, you're taking things to a whole new level of clean. Bionaire mostly makes indoor filtration units, so we're not quite sure why they thought to try their hands at making a steam mop. From everything we've seen on this model, they should have just stuck to their filters. Keeping floors clean is big business, just ask Proctor and Gamble who make half a billion dollars a year just on their Swiffer brand. You can't limp in with a weak product and hope to steal away market share.
The Claim
The Bionaire Steam Mop claims to be able to add the power of steam to your cleaning efforts, making it easier for you to clean up the hard surfaces and floors of your home. It's a simple enough concept, adding steam to a mop head similar to a Swiffer Wet Jet. So basically it boils down to whether or not they put enough craftsmanship and technology into this thing at such a suspicious price point.
The Cost
Bionaire Steam Mop is around $60 and available at Amazon with free shipping. At first glance, this might seem like a reasonable price. It is our opinion that they are in the process of phasing this out, and you won't see it on the market in the near future. They aren't really promoting it too heavily, and seem to be selling off whatever remaining inventory they have, with no plans to make upgrades or improvements to it, or remain in the floor cleaning market much longer.
The Commitment
When you purchase a steam mop, you will have to learn how to use it properly. Most people forego the instructions, thinking that it's just like using a steam iron, pour the water in, hit the steam button and you're on your way. But you'll want to be careful about how you use this and on what surfaces you use it on.
Evaluation
The Bionaire Steam Mop is universally panned by critics, and the exact opposite of what you see when a product gets good reviews. Most well-received products have plenty of positive reviews and a few detractors. But this product gets almost all negative marks, with a few exceptions. It's safe to say that you can pass up on this one, and put your money to better use with a product that is a crowd pleaser.
They say that it's safe on all surfaces, but this can't be true. Not all surfaces will respond well to being steamed, no matter how soft your bad is, and you can even damage certain types of flooring with it. If you have waxed and polished floors, you don't want to introduce steam into the mix. We would try this out in a spot that is not noticeable to see how your flooring responds to it before using it on your entire floor, if you are in doubt of whether to use it or not.
With some products you can bargain shop, but when you're talking about something involving steam, you want to pay a bit more so you can be assured that it works. The combination of a low price, plus poor feedback from users means that in this instance you are getting what you pay for, and not getting value for your dollar.
Final Bionaire Steam Mop Review
Bionaire Steam Mop is a flop. Go with something that is much more well-reviewed like the Shark Steam Pocket Mop. Shark is not like Bionaire. They are focused solely on making vacuums and other cleaning products for the home. Bionaire seems to be phoning this one in as a half-hearted attempt to enter a new market. Shark is quickly gaining ground as a major player in the industry and is acting like the little dog with something to prove. Going with their steam mop over this one is our advice.
Our Recommendation
We are recommending against purchasing this, and going with something that is better constructed, more reliable, and does a better job. In this case, the Shark Steam mop described above. Sure, it may be a little more expensive, but consensus says that you won't be getting much use out of the Bionaire model before it breaks down on you, so there's no point in going through the process just to end up at the same place.
What do you think? Does Bionaire Steam Mop work or not?