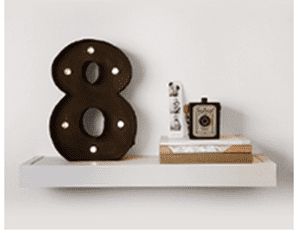 Space is at a premium in most homes and offices too. It means that people have to start using their wall space more effectively. They can do this by installing cupboards but that is not always convenient. Plus they do take up too much space. A simple solution may be the High and Mighty Shelves.
Overview
At first the High and Mighty Shelves May look like any other shelf, but they are quite different. It begins by applying the strip to the wall that comes with the High and Mighty Shelves. This is a self adhesive strip that is easy to apply. Then there is a set of clips that are applied to this strip. This is what holds the High and Mighty Shelves securely to the wall.
The Claim
The Company claims that the whole process of installing the High and Mighty Shelves is quick and easy. They also say that these shelves can hold up to forty pounds.
The Hype
The hype is the easy installation of the High and Mighty Shelves . There are no special tools needed. There is no inconvenience of marking up the walls with screws and nails. This is a big bonus in itself.
The Cost
The cost for the High and Mighty Shelves begins at $29.95, but it includes free shipping. Along with this order they are providing 2 bonus wall hangers. This price is for the 18" shelf. For the 24" the cost will be $34.95. Then for the 36" the cost is $39.95.
The Commitment
The commitment for the High and Mighty Shelves is going to be minimal. First it will mean making a choice of three available sizes. Then the color choice between white or espresso. Next it will be the installation. The biggest task with the High and Mighty Shelves will be applying the strip so it is straight.
Evaluation
The concept for the High and Mighty Shelves is a good one. How ever, there is no talk about how one removes the holding strip. Or whether it is going to damage the paint if one does. All indicators are that it probably will. So the only bonus here is not having to put holes in the wall. Overall the product is quite pricey. But for those that want convenience then it may be worth the extra cost. Something else to keep in mind is that theHigh and Mighty Shelves are only suitable for drywall surfaces.
Final High and Mighty Shelves Review
We are going to give the High and Mighty Shelves a try/buy. We are of the opinion that there may be comparable shelve available at better pricing.
Our Recommendation
For an alternative choice in shelving you may want to check out the Handy Shelf which is a different approach to shelving.
What do you think? Does High and Mighty Shelves work or not?