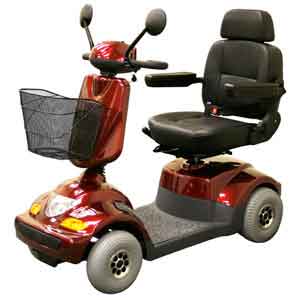 You've probably seen the advertisements on TV for the Hoveround. They usually air during the daytime and promise to reintroduce mobility into the lives of those that can't get around so easily anymore. Many times they will mention that they can get Medicare or Medicaid to pay for the device, so there's no out-of-pocket expense for you. But how well does this really work at getting you where you need to go, and can you really pick one up without putting any money up?
Overview
The Hoveround is like a cross between a wheelchair and a scooter. It definitely looks comfortable, and the demonstration shown in the ad makes it look like you can get around tight corners easily, as well as keep the pace with people walking next to you. If you currently use a walker, or a cane, or have people push you around in a wheelchair, this will definitely raise your eyebrow and make you wonder if it's all too good to be true.
The Claim
The manufacturer claims that you can get a Hoveround for little to no cost to you. They also say that their custom fitted seats mean that you'll get a lot of comfort in using it, it won't be like you're stuck in a chair all day. This is due to their pressure relief system, which includes a lumbar support panel, 4 inches of foam padding in the seat, as well as springs in the seat to help cushion the bumps.
They also claim that it is "round for a reason". It is not designed the same way that a wheelchair is, so it's not really just a power wheelchair. Because of its ability to turn on its axis, it can make 90° turns in tight spaces.
The Hype
The hype really comes from how often they show their infomercial, and how fine and easy they make it look to own and operate a Hoveround. It's hard to argue that the design work, and it's much different than a wheelchair, but can it be that great?
The Cost
The great idea to have the government pick up the tab on this one, because Hoveround's go for around $8000 for the newest model brand-new. They are a pretty sophisticated piece of equipment, and they last for years and years, but for most people this is a price that puts them out of reach without some sort of government subsidy.
The Commitment
Like with any major purchase you want to invest the time necessary to familiarize yourself with how to use it properly to get the most out of it. Several of the problems that people have expressed come from not using it the way it was intended, and not reading the directions fully. Once you are comfortable using the Hoveround, it should actually improve your lifestyle and save you time and give you back some of your autonomy that you might have lost.
Evaluation
Some of the first models to come out of the Hoveround product line look pretty basic compared to today's standards. There has been several incarnations of the Hoveround, and the most recent one is pretty high tech. It's got a smaller thumbprint than the original, turns corners more tightly, is more comfortable to sit in, has higher top speeds, and a longer battery life. Similar to Apple where they're always making slight adjustments to their already popular products, the Hoveround Corporation doesn't just sit back and say they are finished.
One thing to keep in mind is that Hoveround is still updating and improving their products year after year. The common model that were all familiar with from advertisements is pretty old school compared to their most recent model shown on the right. They seem to take into consideration the feedback from users over the years I have incorporated the them prove men's into their new models.
What People Are Saying
There are a host of negative reviews when it comes to the Hoveround, but this is pretty easily explained. If you get a Hoveround and you enjoy it is probably little gumption to go online and find a review site and post that you're having an excellent time. However, if you get it and you don't like it horizontally you thought it would be, you're more likely to go online and vent your frustration.
Final Hoveround Review
It's hard to deny that Hoveround actually works. There is a learning curve as far as using it goes, and you have to be patient with yourself, as well as with the machine if you want to experience the positive benefits it can bring to your life. Many of the reviews you see for the Hoveround probably apply to some of the early models, because reviews of the latest model are mostly positive, showing that the company behind it learns from their mistakes and is continually improving.
Our Recommendation
Getting the process started with the folks at Hoveround is a low risk high reward venture. Worst-case scenario you don't get approved for a free Hoveround, and you're left the same situation you're currently in. Best case scenario, you do get approved and it shows up at your door a short time later and you're all set. We always recommend the sort of situations, and we hope that this is the start of you regaining some of your freedom.
What do you think? Does Hoveround work or not?