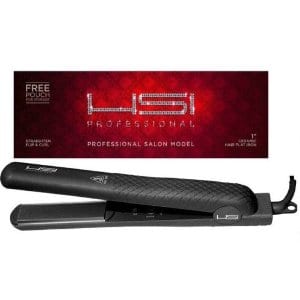 HSI Professional Flat Iron is supposed to give you smooth hair that actually does what you want it to do. We've checked out our fair share of hair styling products, and have been pretty brutal with our reviews, so it was nice to find a product that finally works the way you'd want it to and leaves you wishing that they made an entire line of products. So what do people really think of this?
Overview
People with curly hair want straight hair, people with straight hair want curly hair, and people with no hair want more hair. It's not just a case of the grass is always greener, or we want what we can't have, it's just human nature to want to change your look from the everyday. If you've had a bad hair straightening experience, you're probably looking for a flat iron that works, and works every time. There are so many lousy hair straighteners out there that most of us have gotten burned in the past. Literally and figuratively.
The Claim
HSI Professional Flat Iron says that it not only straigtens, but also flips and curls your hair as well. They put the word professional right in the title, so they're basically saying you're going to get a pro quality hair styling product here, but they're doing it at a price that puts it within reach, and not far off from your run of the mill hair products.
They also say that it's made out of ceramics, which is where most hair curlers, stylers, and other products are heading towards. This means it should be less damaging to your hair, and heat more evenly so there aren't hot and old spots. It also helps to reduce or prevent frizz. They say that the temperature is adjustable, so no matter what type of hair you have, you'll be able to get good results. They also say that with the one inch width you'll be able to use it no matter how long your hair is, but still be able to get your bangs with it.
The Hype
The hype is that we all want to be professional stylists to our own hair, and we want to use products that are professional grade. There's no reason why we should have to buy cheap products that don't do as good of a job on our hair, and be forced to go to the salon to get the salon look. More and more products are coming down in price but keeping their high quality, and this product is a fitting example, so of course there is a buzz about it.
The Cost
You can get the HSI Professional Flat Iron for less than $50 from Amazon if you get it without the heat case and extras. If you want the deluxe kit it's $60.
The Commitment
Getting your hair styled represente only a time and money commitment. Doing it yourself saves you money, but still uses up your time. It's really not feasible to get your hair done every day, unless you're a big name celebrity. When you compare this to other hair styling products that you could use to get the same effect, this one might save you a little bit of time. It's basically a break even as far as your commitment level goes.
Evaluation
The HSI Professional Flat Iron is getting phenomenal reviews, and the vast majority of people that use it love it. They don't just love it they LOVE it. This is one of the best reviewed products we've ever seen, and it's our job to size up products and bring you the results. Statistically speaking, it would be an anomaly for you not to like this. There is greater than a 90% chance that you will like or love this, and won't regret your purchase. That makes it a winner in our book.
If you've ever used a hair straightener or flat iron that was made of poor quality, or didn't have an adjustable setting, you probably have a bad taste in your mouth and are twice shy about buying a new one. But you have to leave the past in the past and judge this anew, without letting your previous bad experience(s) get in the way of making the right choice here.
Final HSI Professional Flat Iron Review
There's not much not to like about the HSI Professional Flat Iron. It's getting our Thumbs Up, based on the positive feedback, the real world test results, the reputation of the company, and the fact that this takes care of a job that many products attempt but fail. In a world of so many bad hair straighteners, this is setting the benchmark for how they should be.
HSI Professional doesn't just make this, they make other products that get equally good reviews. It's nice when a company is committed to make great products and offering them at reasonable prices. They could easily charge more for this, and make more for their bottom line, but they're choosing to provide massive amounts of value instead, which is great for us.
Our Recommendation
We recommend adding this to your hair styling toolkit. It won't let you down, and should provide a few years of reliable service. That breaks down to less than $25 a year or just a few dollars a month to have your hair styled the way you want it, and have it stay looking that way all day long.

What do you think? Does the HSI Professional Flat Iron work or not?