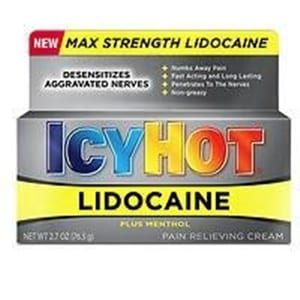 Aches and pains are common at any time of the year, but in the cold winter months they sometimes seem just a little bit worse. It is at times like this where the sufferer wants something quick, easy and effective to use, but does not necessarily want to depend on oral medications for relief. There are plenty of topical rubs on the market that tout that they are the best pain reliever for this type of discomfort so is Icy Hot Lidocaine Cream one of them?
Overview
Icy Hot Lidocaine Cream is a fairly new topical aches and pain relief product to hit the market but the Icy Hot brand has been around for some time and has a fairly good reputation in regards to the quality and efficiency of their products. This Icy Hot Lidocaine Cream contains the ingredient lidocaine which is a substance that is known to effectively numb the skin. The product also contains menthol which is also known for its numbing properties and is often used for external pain relief by naturalists.
The Claim
The promoters of Icy Hot Lidocaine Cream claim that it can be used for relief of pain in the neck, shoulder, knee, elbow,foot, ankle, leg, and hand and wrist areas. The claim is made that it can numb the discomfort right down to the nerves. It is stated that the product is easy to use and is non-greasy.
The Hype
The hype really focuses around having an alternative to having to use oral medications for pain relief. Many people prefer something they can easily apply externally for their discomfort rather than having to deal with the potential side effects of oral medications.
The Cost
You can buy Icy Hot Lidocaine Cream at most of the major department and pharmaceutical stores, as well as at different locations online including Amazon. The prices will vary slightly but on Amazon it is selling for around $8.60.
The Commitment
Most importantly is to follow the directions on the label and only use it as directed. All too often people tend to overuse topical pain relief medications because they feel that more is better, which is not the case.
Evaluation
Based on the reputation that other Icy Hot products have we feel confident that the Icy Hot Lidocaine Cream will live up to the same standards. There is no doubt that there is a big demand for pain relief involving sore muscles and joints that can be caused for a whole gambit of reasons. At the same time we strongly urge anyone that is dealing with any type of pain seek out appropriate medical advice and diagnosis before self treating.
Final Icy Hot Lidocaine Cream Review
We are prepared to give the Icy Hot Lidocaine Cream a thumbs up. Partly because of the credibility of its manufacturer, plus the big need for a product like this, and then finally because it is getting a good feedback from those who have reviewed it on Amazon.Out of 46 reviews it has received a four star rating to date. It is also interesting to note that it has been used for many different pain causing reasons including migraine headaches.
Our Recommendation
Not everyone is going to get the same type of relief from a product like Icy Hot Lidocaine Cream because everyone is unique and their pain levels are different. If you are looking for what seems to be a good alternative then check out Light Relief..This is a totally different approach but is still a topical treatment for aches and pains.
What do you think? Does Icy Hot Lidocaine Cream work or not?